Before the 1940's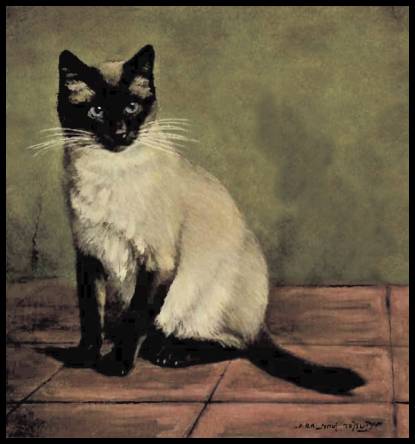 From a painting by William Luker (1851-1899)
__________________________________________________________
~ 1878 ~ 1893 ~ 1895~ 1899~ 1903 ~1919 ~ 1920 ~ 1923 ~ 1927 ~
~ 1930 ~ 1931 ~ 1932 ~ 1933 ~ 1934 ~ 1936 ~ 1937 ~ 1938 ~
I've had to remove the links to pedigree tree reports. Sadly the database is now restricted.
__________________________________________________________
(Go to Siamese born after 1940)
Names of famous cats were often reused by other breeders. This causes confusion with line chasing. An article discussing this appears under 1935.
~1893~
First Siamese cat to live and die in the United States White House - 1878-1879 It was shipped from Bangkok. Complete details at The Rutherford B Hayes Presidential Center http://www.rbhayes.org
There are no known photographs of the cat named "Siam" taken during its short life. Siam was described as "mahogany-colored". Siam died when the family was out of town and the Presidents assistant took Siam to the Secretary of Agriculture for preservation . There is no other record of Siam's body whereabouts.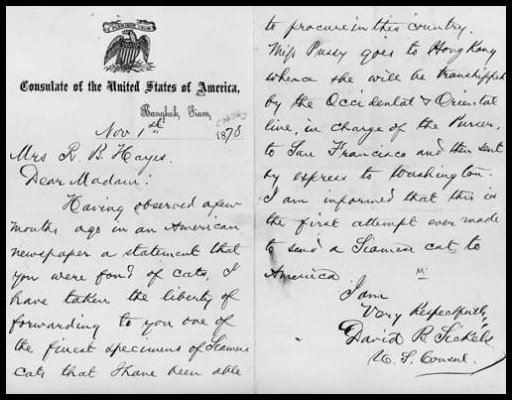 Photo used with written permission of Nan Card, Curator of Manuscripts Rutherford B. Hayes Presidential Center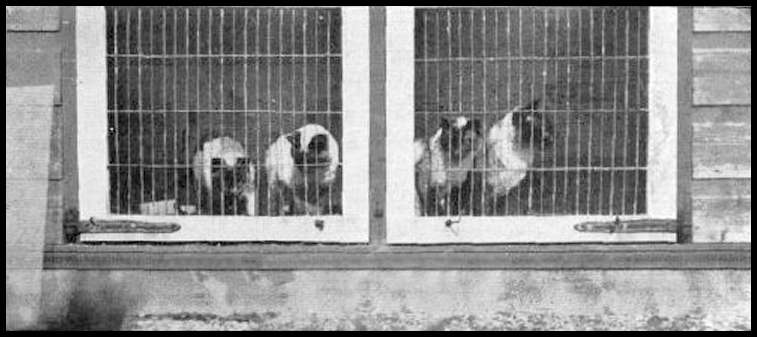 "A pair from the Palace were given to Mrs. Vyvyan and myself in 1884-5, and we have been very careful in breeding, mating when possible with such good cats as Mrs. Lee's celebrated 'Meo,' Miss Moore's 'Siam,' Mr. Harrington's 'Mechi,' etc. and have bred in consequence the famous 'Tiam-o-Shians' II., III., and IV., 'Polyphema,' 'Susa,' 'Kitya Kara,' 'Goblin,' 'Champion Eve,' 'Mafeking,' 'Vishuddha,' 'Ah Choo,' 'Suzanne,' and many others." Francis Simpson 1903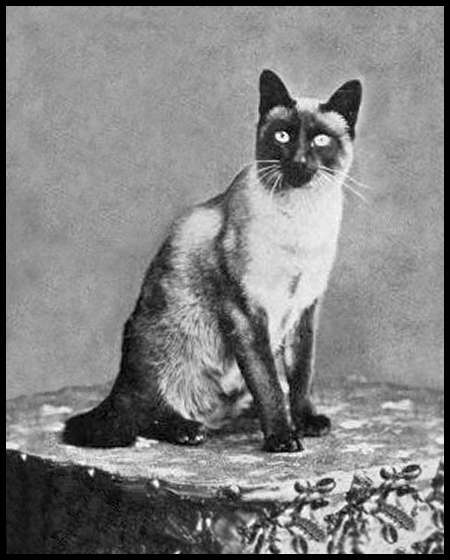 Mrs. Carew Cox's "King Kesho" (born 6-29-1893)
Sire:
Tiam O'Shian II Dam: Gracie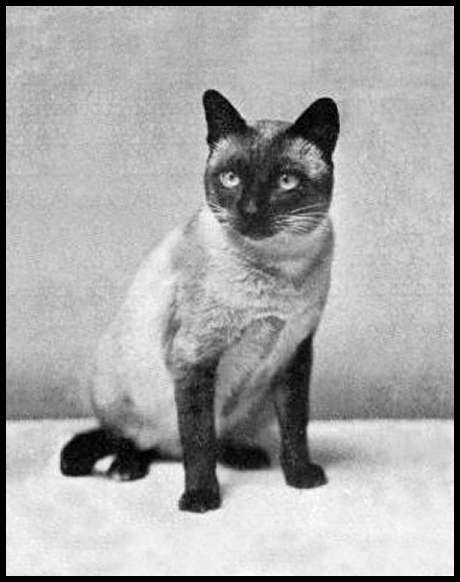 Mrs. Robinson's Wankee born 9-28- 1895
Sire: Robert (imported from Hong Kong) Dam: Mons
"Wankee" was the first Siamese to win the title of "Champion." He was bred in Hong-Kong, his mother - "Nims" - being a stolen palace kitten. "Wankee" was six months old when he arrived in England: and was born in September, 1895. He has won over thirty prizes, but was never shown till June, 1898, therefore losing the time in which most Siamese cats gain their honours - namely, between six months and two years, when they are pale in colour of coat." Francis Simpson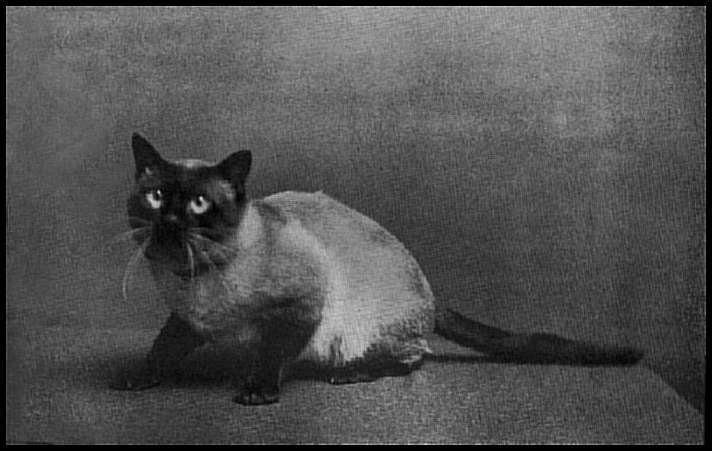 Mrs. Vyvyan's Tiam-O-Shian IV born 8-15-1899
There are differing opinions on what cats this Siamese came from.
Photograph by E. Landor, Earling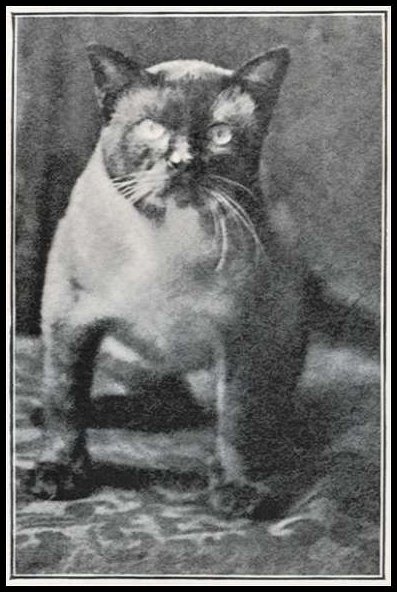 The above Siamese with a bulldog build was know as Siam. His son Chom Owned by Mrs. Cronise is shown here
Siam and Sally Ward were among the first recorded Siamese breeding cats imported and registered in America, owned by Adele Locke of Lockhaven cattery, Chicago.
Both the photos above were published, in Massachusetts, in Concerning Cats by Helen Winslow, with the year 1900 as the copyright date.
You can read the text of this book without having to find and purchase it as I did. It is online, minus all photos, as part of Project Gutenberg Ebooks and Google Books.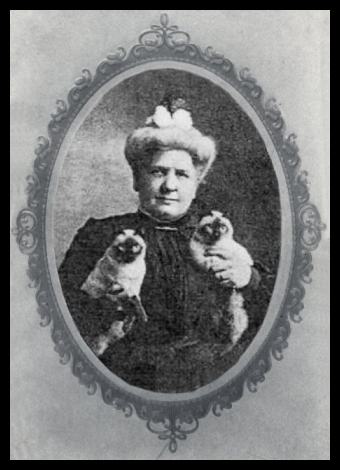 Unfortunately someone published a web page stating Mrs. Robert Locke started the Beresford Cat Club, and many mindless sheep copied that information and it has propagated across the internet. Adele Locke is the lady that founded the Beresford Cat Club. This fact is stated in The Book of the Cat by Francis Simpson (1903) as well as in her obituary printed May 1916 in a cat breeders magazine.
"In 1896 an American Cat Club was organized, which did some good work. Then Chicago started a Cat Club in January,1899, and this was followed by a most successful enterprise on the part of Mrs. Clinton Locke, who founded the Beresford Cat Club, called after Lady Marcus Beresford, and now numbering about 200 members." Francis Simpson 1903
Adele (G. Douthitt) Locke (born~1839) was married to Reverend Dr. Clinton Locke (born 7-24-29), a mason and pastor emeritus of Grace Episcopal church in Chicago. He and Adele were the originators of the movement to establish Saint Luke's Hospital. He was considered a remarkable linguist with a passion for literature. They had four children, three boys and one girl. I found only information on Robert D. Locke (born ~1868) and Fanny Cottinet Locke (born ~1869).
Dr. Robert Locke graduated from Rush Medical College. He was also a talented linguist and traveled widely. He traveled to the Philippines to act as a press censor for the government. In 1895 Robert was arrested for attempted murder. It was charged that while intoxicated he tried to kill a watchman at Von Herman's drug store. He was shot in the leg during the scuffle. In June of 1900 in a letter to his mother he indicated he had returned from the Philippines and was sick with Malaria. He would rest in San Francisco before returning home to Chicago. On the ninth he committed suicide, a bullet to the heart, in the Occidental Hotel San Francisco. His wife was in Paris. He was 32 years old.
In 1890 Fanny married John Kenneth Mackenzie (born 6-12-1862 England). He attended Yale and became one of the best-known mining engineers in the U.S. West. He was killed by Yaqui Indians while visiting a mine in 1905. They had two sons. She then married Fredrick H. Hatton a Chicago drama critic. Together they became well known as playwrights. In 1939, Fanny died at the home of her son, Dr. Locke L. Mackenzie, at the age of 70. Frederick H.Hatton died in 1946 age at the age of 66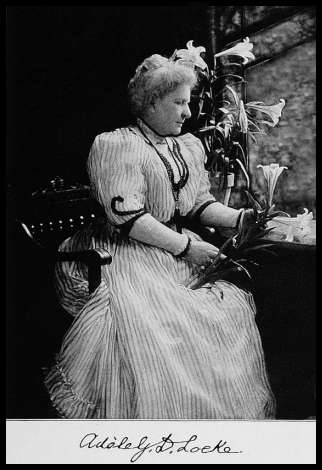 Mrs. Adele G.D. Locke
MRS. ADELE G. D. LOCKE

DIES AT AGE OF 80 YEARS

Published Obituary - MAY, 1919

The passing of that older generation of Chicagoans, who in the period during and following the World's Fair [Columbian Exposition1893], won a place for the city in the social annals of two hemispheres, was marked today, March 29, 1919, by the death of Mrs. Adele G. D. Locke, one of the best known figures of the nineties.

Mrs. Locke was the widow of the Rev. Dr. Clinton Locke, for forty years rector of Grace Episcopal Church, Chicago. She was the mother of Mrs. Fanny Locke Hatton, who with her husband, Frederick Hatton, is well known as a playwright and dramatic critic. Mrs. Locke was the founder of St. Luke's Hospital, Chicago, and with Lady Beresford, of England, she organized the first Beresford Cat Club, and has always been recognized as the head and authority of the Cat Fancy in America. She was president of the American Cat Association for many years, and was always willing to help with the work of educating people to a full knowledge of the thorough breeding of cats.

Mrs. Locke traveled very extensively; she was presented at the courts of England and Spain. She was a very beautiful woman with a wonderful personality. Next to Mrs. Potter Palmer, she was probably the best known woman in Chicago society.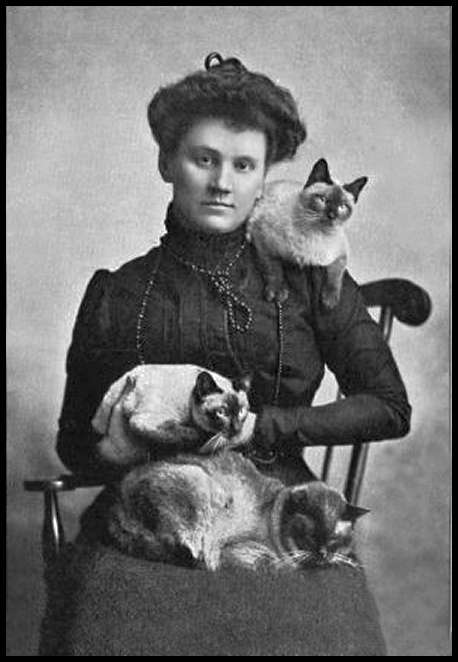 Mrs. Robert Locke
All the Siamese photos in this 1903 section were published, in 1903, in The Book of The Cat by Francis Simpson.
This book can be read online The Book of the Cat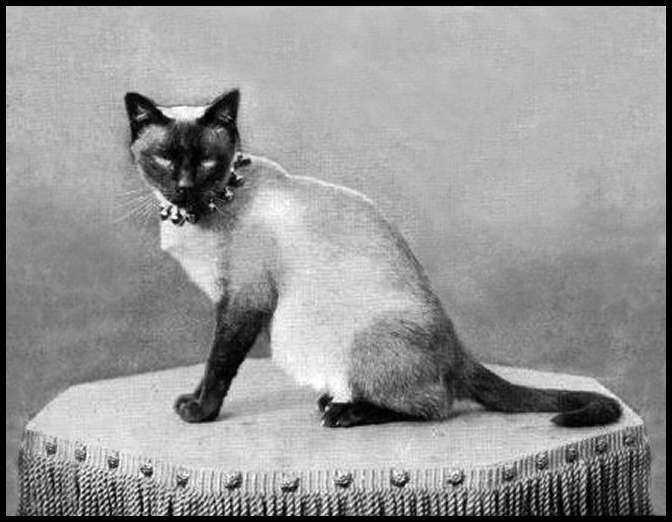 Miss Armitage's "Cora" born before 1903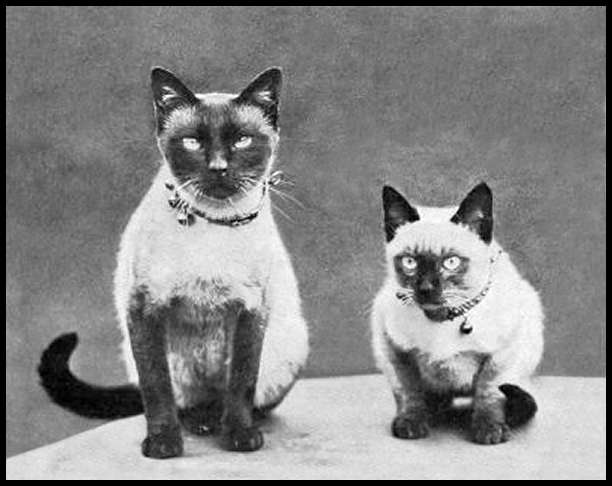 Miss Armitage's Cora with her kitten from Wankee born 1902
"Miss Armitage, of Chaseleyfield, Pendleton, has sent me some charming photographs of her pets. She writes: -
"I have very few cats at present; I lost so many beautiful Siamese last year, and I think I made rather a mistake in having their skins made into mats! 'Cora,' the mother of my Siamese cats and kits, is still a beauty, and I really think she improves with age; and though her eyes are not all I could wish for in colour, yet her kittens have always had the desired tone of blue. I have now a lovely daughter of 'Cora' and 'Champion Wankee,' aged nine months."" Francis Simpson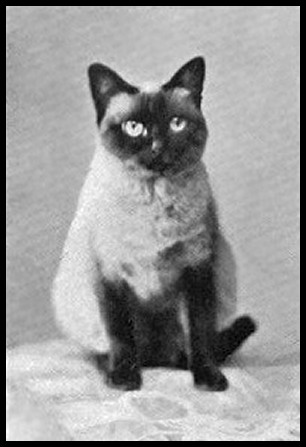 W. Margetson's "SI" born before 1903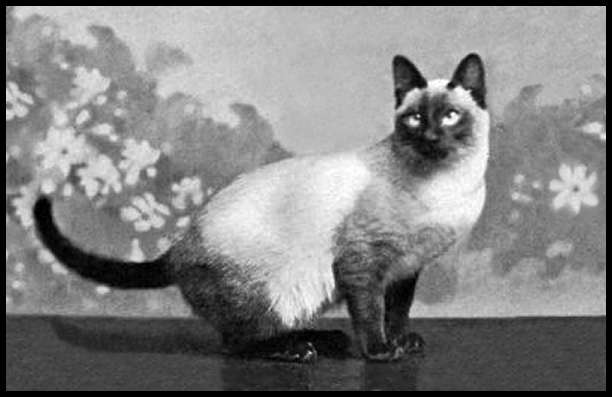 Mrs. Ratcliffe's unnamed Siamese born before 1903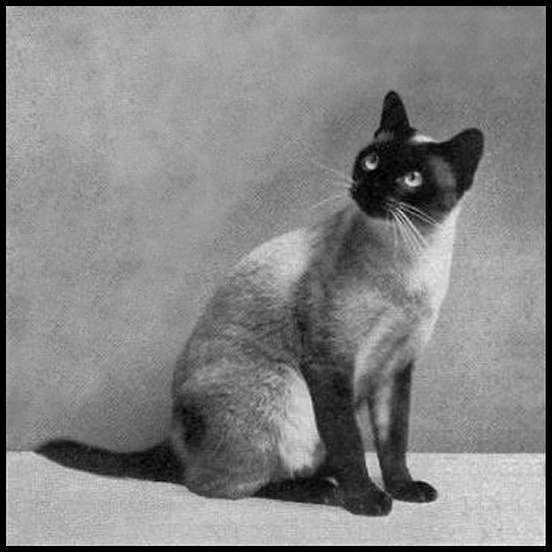 Mrs. Robinson's "Ah Choo" female born May 3, 1900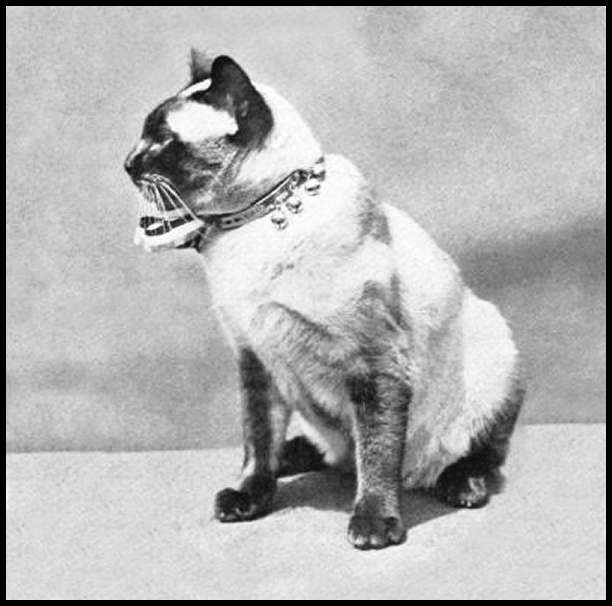 Mrs. Vyvyan's "Mafeking" born before 1903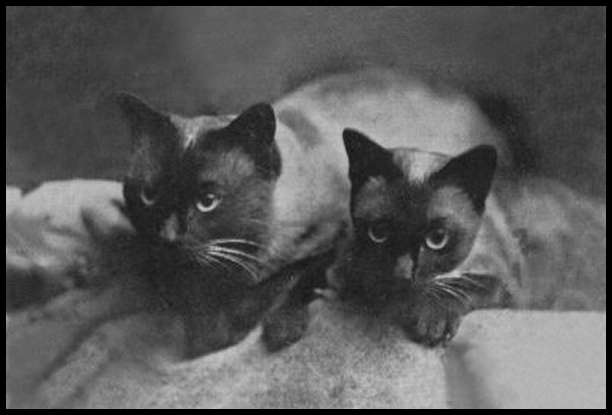 Mrs. Vary Campbell's "Romeo & Juliette" born before 1903
Lady Marcus writes: - "A pair of Siamese imported from the temple at Bangkok I purchased from Mrs. Vary Campbell, and had the great misfortune to lose them. They differed from the royal Siamese, being darker and having a more pointed head and face, and their eyes were larger and fuller. "
In the 1930's Dr. Thompson also noted the difference in some Siamese coat colors and worked with Mrs Cobb to develop the breed we now know as Burmese.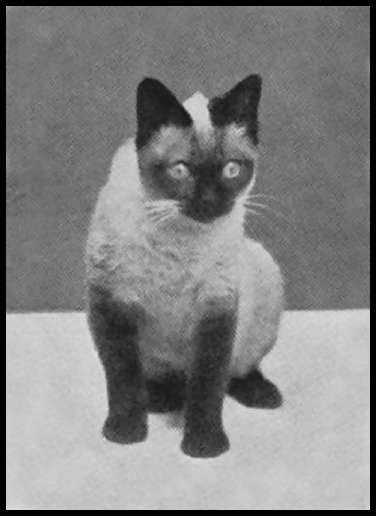 Lady Marcus Beresford's "IT" born before 1903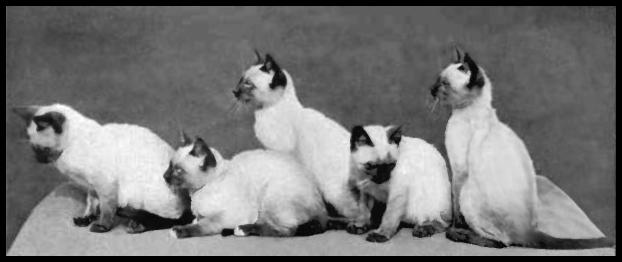 Lady Marcus Beresford's litter from "Tachin" ....Note the white toes.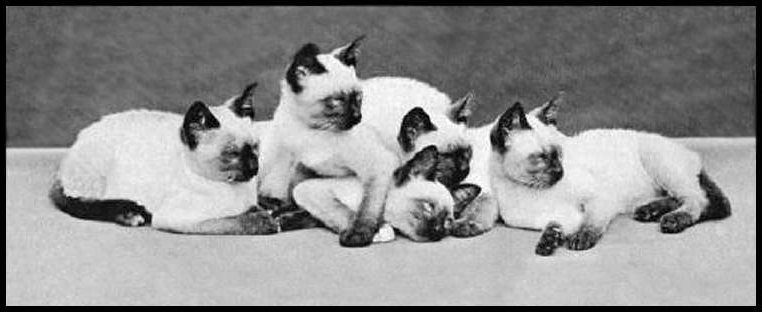 "As everyone knows, Lady Marcus Beresford has always been especially fond of Siamese cats, and many splendid specimens have inhabited the Bishopsgate cat cottage. At present "King if Siam" and "Kholua," and a quaint little female called "It," represent this breed. In the days gone by "Tachin" and "Cambodia" were the admired of all admirers, and I doubt if ever a more perfect pair has landed on these shores. These cats were given to Lady Marcus Beresford twelve years ago by the late Lord William Beresford, who brought them straight from the palace at Bangkok." Franics Simpson 1903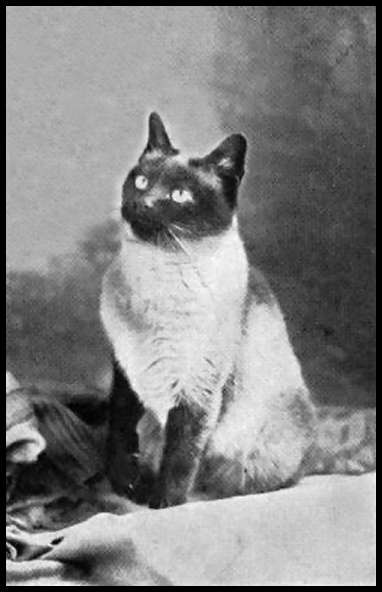 Lady Marcus Beresford's "Cambodia" born before 1903

Lady Marcus writes: - "I never once had any trouble or anxiety with them - dear, gentle, friendly little people, so clever and attractive. I have never seen any I have so admired. They had many fine, healthy litters, scattered about now amongst various friends. My success all round was great with them - no illness of any kind, till one day a fiend poisoned both 'Tachin' and 'Cambodia,' and some of their six months kittens. I have replaced them with some bred in England."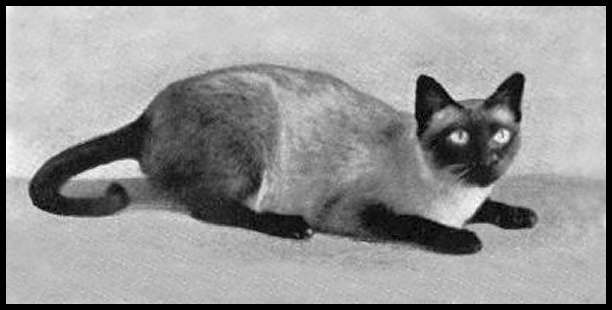 Lady Marcus Beresford's "Ursula"
Lady Marcus Beresford for who the Beresford Cat Club was named is credited for starting the cat fancy in England. Louisa Catherine Ridley (1846-1920) was the daughter of Charles William Ridley who entered the army as an ensign. Charles Ridley and wife Henrietta had four children, two boys and two girls. They lived in London the 1851 census shows 2 children and five servants. Louisa first married Henry Bloomfield Kingscote March 31, 1870 they were divorced in 1871. She then married Charles Francis Buller on July 11, 1873. Louisa married Marcus Talbot Delapoer-Beresford August 28, 1895. She had no children.
"Lady Marcus has been a celebrated beauty and is very clever. For despite two sensational divorces and antecedents sufficient to ruin forever the position of any woman, she has managed since her marriage to Lord Marcus to recover a very remarkable foothold in society, mainly through her organization of the National Cat club, with herself as secretary and manager, and with all sorts of leaders of the great world as officers and Directors." written by a Veteran Diplomat in the article Women Began Feud that Agitates the British Navy: To a Social Feud Between the Wives of Two Admirals Is Attributed the Present Demoralization Existing in English Navel Circles. July 26,1908 Love the bit about the Banshee in this article. Here is another article about the family that tells the banshee story too. Family Distinguished in England and Ireland for Generations and Possessors of a Guaranteed "Banshee" December 18, 1910.
The three cats above are Imported Bangkok, Siam and Calif. Owner Mrs. Robert Locke.
---
Lady Marcus Beresford liquidates her cattery
New York Times newspaper Sunday, January 24, 1904

For some reason or other Lady Marcus Beresford has given up her various cat clubs, has resigned the Presidency of the largest and most notable of these organizations in London, and is to dispose of her many pets and charges by selling them to fanciers or to private parties.

Lady Marcus Beresford has for some years made this cat culture a special fad. It is said that the Cat Club in London will now go into dissolution. The recent exhibition in New York showed several cat clubs in a most flourishing condition here, and some of the catteries here intend to purchase a few of the Beresford animals. They have been pictured for years in the various English magazines and are considered to be quite wonderful of their kind. Lady Marcus Beresford was originally Miss Louisa Katherine Ridley, the daughter of an army officer.
Siamese stolen from King Chulalongkorn
New York Times newspaper Sunday, August 22, 1904
SACRED CAT OF SIAM A LONG WAY FROM HOME; Satsuma (Oriental Steamship Company's liner Satsuma) Arrives Here with King Chulalongkorn's Pet (Siamese Jane). BOUGHT HER FOR A MOUSER.
Satsuma's Chief Officer Hodges said Siamese Jane gave birth to five kittens while traveling to New York. He goes on to say that he learned the cat was stolen. King Chulalongkorn offered a $1000.00 reward for her return. When a local man offered a cat to them for 50 cents he bought her as they were in need of a good mouser. When the kings government men inquired he kept silent about the Siamese cat for fear of being jailed. Nothing is said of what happened to these Siamese after the ship docked in New York. The full article can be read online. For the copyright N Y Times article click here.
---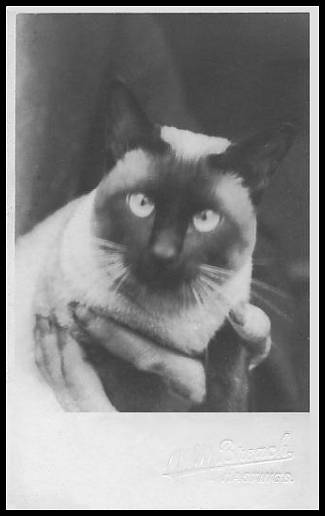 Champion Slightly born 3-28-1919
Sire: Southampton Sabian
Dam: Sita
---
May 1919 - Three tiny baby Siamese kittens have lately been born to Champion Kee-Wan-Kee ex Champion Todge the Dodge. These two cats better known as "Sammy" and "Eldee" never fail to present their owners with a little spring family. Both cats live at the Romeo Kennel, Grand Rapids, "Sammy" owned by Mrs. Dykhouse, "Eldie" by Mrs. Gertrude E. Taylor.
Todge the Dodge (F) born April 5th, 1912 pedigree
advertisement in the same publication May 1919
Romeo Cat Kennels
Ch. Romeo Kee Wan Kee
Siamese. A proven sire. Sire, Boojum II.; dam, Bandoola. A.C.A. 1337. Fee, $10.00
MRS. H. G. DYKEHOUSE
1331 Lake Drive Grand Rapids, Mich
---
November, 1920 Cover Photo
Royal Wicky Wicky III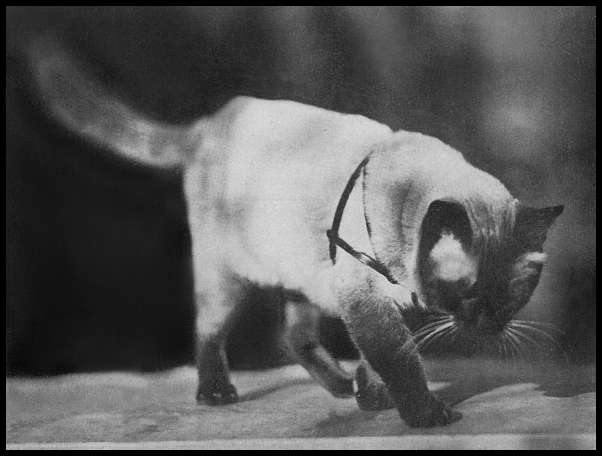 WICKY WICKY III.
Royal Sacred Siamese male, bred and owned by Mme. Blanche Arral, of the Royal Siamese Cattery at Grantwood, N.J. This cat is a direct descendant from the pair of Royal Siamese Mme. Arral had presented to her by the King of Siam after having sung at a recital before him.
THE BLANCHE ARRAL SIAMESE CATTERY
Mrs. Geo. B. Wheeler, of Grantwood, N.J., who was formerly Mlle. Blanche Arral, the prima donna, and who has been interested in the Royal Sacred Siamese cats ever since the King of Siam presented her with one after singing before him, is again taking up the breeding, of Siamese, and will advertise the The Blanche Arral Siamese Cattery in the Courier. She has as her stud Wicky Wicky III who comes down from her original ca, and two of Mr. Grant Carpenter's queens, and expects to import a pair soon, thus readers of The Courier will see that the Royal Sacred Cat of Siam is to come into its own again in this country. Success to your venture, Mrs. Wheeler.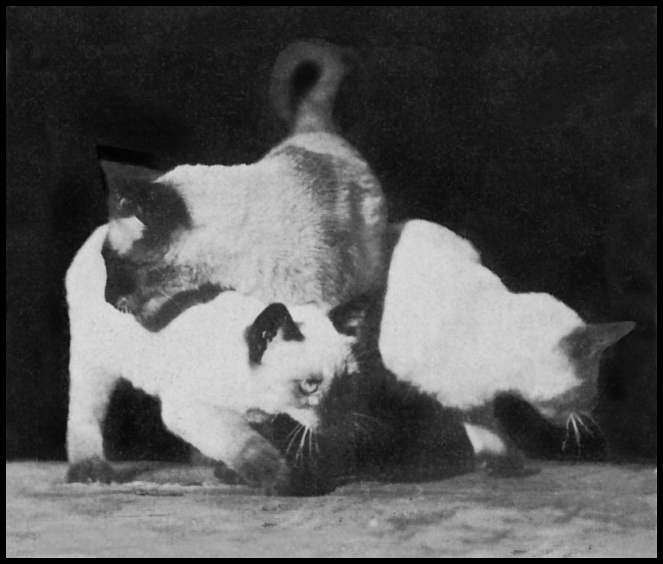 Royal Siamese Cattery MME. ARRAL
The above photo ran with the following advertisement in November of 1920
HOLIDAY PRESENT
A ROYAL SIAMESE CAT
A Fetish Pet --- The Fad of the Year
This gift will be long cherished. Perchasers of Royal Siamese Cats from Mme. Arral's Royal Siamese Cattery are sure of getting the pure Royal Palace strain, direct descendants from the pair presented to Mme. Blanche Arrel by King Chulalongkorn I in appreciation of her vocal recital at the palace.
Descriptive brochure upon request.
MME.ARRAL'S ROYAL SIAMESE CATTERY
Phone, Clifside270, Grantwood, New Jersey
Export Your Stock from England

MISS FLORENCE E. FROND, 10 Oban Road, Bournemouth, Hampshire, England,
can supply you with Cats:—Persian, Siamese, Abyssinian, and British Short-Haired.
Dogs—Pekingese, Toy Toms, Cairn Terriers, and Yorkshire Terriers.
Correspondence invited. Prices moderate. Freightage and Insurance are your own concern

---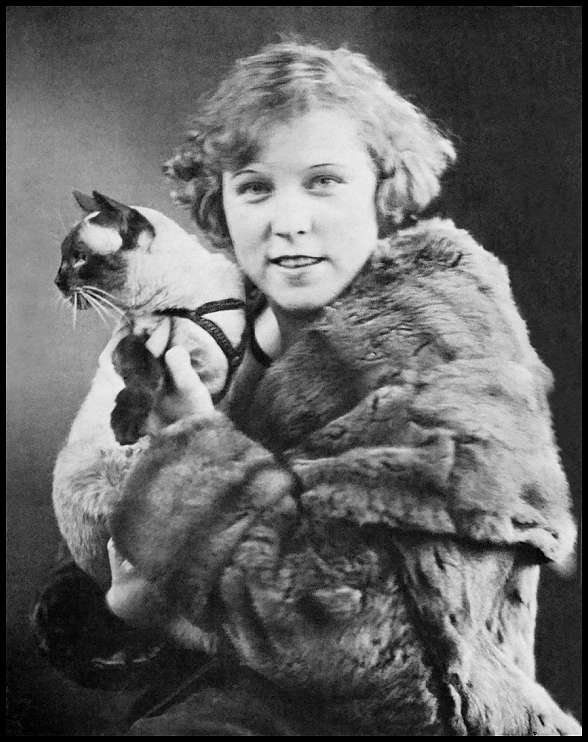 Mrs. Fred J Davis, Passaic, N.J., with Champion Romeo Me Yome, Siamese female owned by Mrs. H.G. Dykhouse, Grand Rapids, Michigan.
Me Yome was bred by Mrs. Gertrude E. Taylor.
---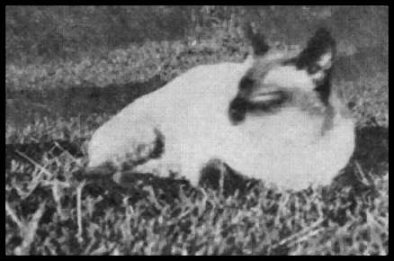 Bonzo II born 5-14-1926 Imported
Also know as Siamese Star Bonzo II of Ming Kwong
---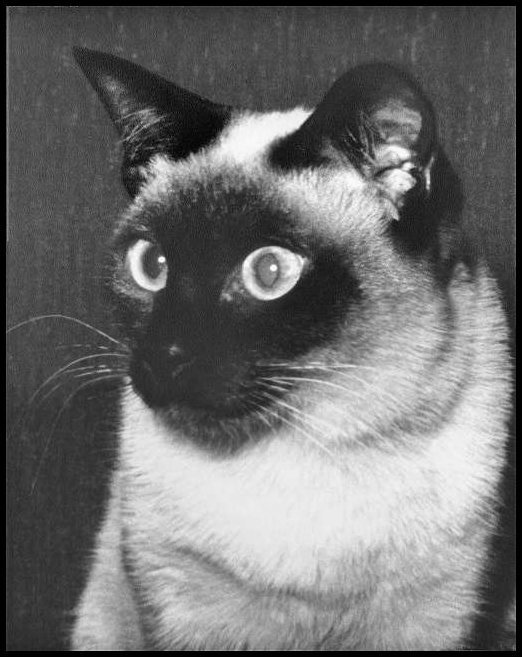 Double Champion Djer-Kits Chinkaling of Newton born 8-4-1927
Final Owner: Mrs. Virginia R. Cobb - Newton Cattery - Newton, MA.
Owner 1929: Mrs. Martin Metcalf - Djer-Kits Cattery - Washington D.C.
Imported from England by former owner: Miss. E.G.Hydon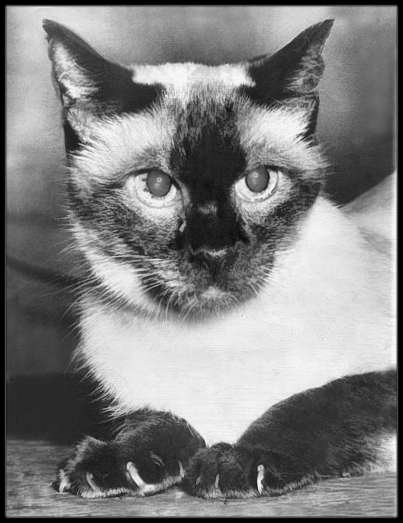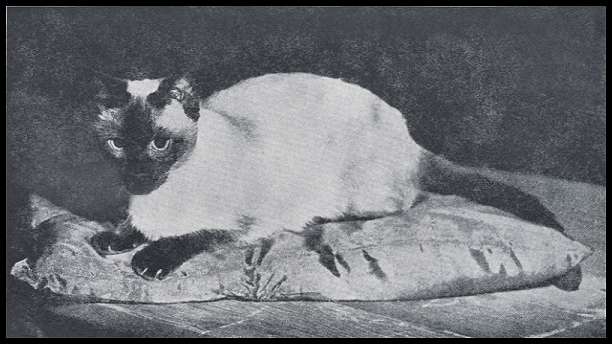 _____________________________________________________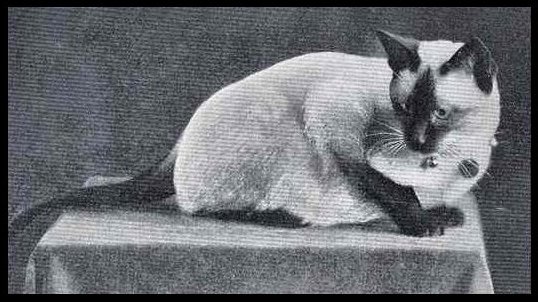 Champion Siamese Star Mee-Zee Of Salina born 09-24-1927
Breeder: Mrs. H.E.Naatz
Owner 1929: Miss Doris Bryant, Stonehedge Cattery
Former Owner: Mrs. G.E. Taylor - Detroit, Michigan
Great Great Grand Dam of Fairchild's Nyima (show below)

---
Mrs. S. E. Thompson's record of Mon Luan (reg. A.C.A.#11519 Vol 25) states her boys sired 2 best kittens in The Pacific Coast Shows of 1933
She also owned at this time Imported Bing Tse Ling. (A.C.A.#13162)
The stud service fee in 1933 for these males was $20.00
This was alot of money. In March of 1933 America was at the very bottom of the Great Depression.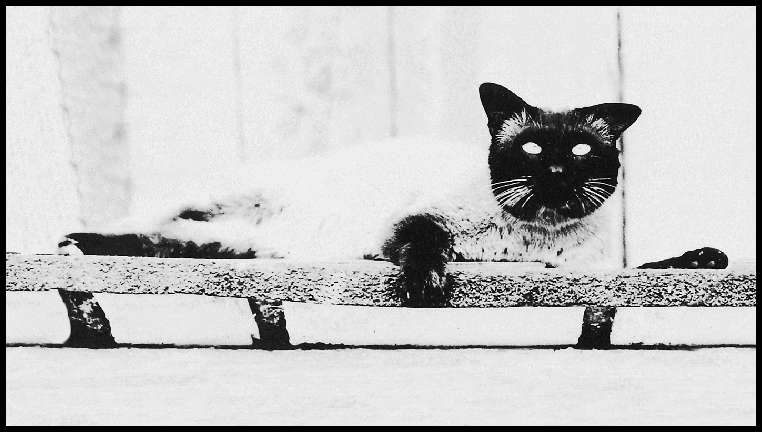 Mon Luan - male seal point
Sire: Rama Boy born 1-25-1929
Dam: Tis Tis born 6-1-1909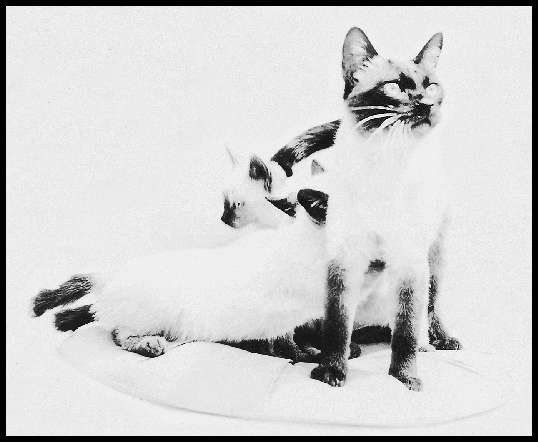 Bing Tse Ling with his kittens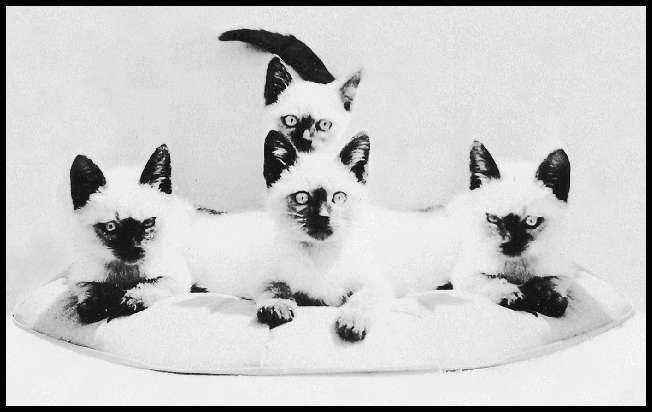 Kittens Sired by Mon Luan
---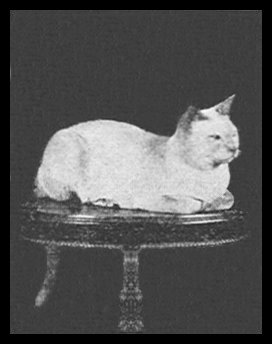 Double Champion Siam's Chief Noda Purachatr born 3-16-1931
Mrs. Karl B. Norton - White Plains, N.Y.
Owner: Mrs. M. Brock - Newerk, N. J.
________________________________________________________________________
THE CAT CRIER - November 1936
Dbl.Ch. Siam's Chief Noda-Purachatr, the first blue point Siamese in the United States to complete his championship both in the C.F.A. and the C.F.F. is feeling doubly proud since the arrival of his first Maine family. Princess Wangsy, the mama is in such a state of excitement over the babies that Miss. Frith, owner of the Purachatr Cattery says she cannot even set foot in her own cattery, much to her amusement. Miss Frith says there are five in the litter and though she is not permitted to see them, Mrs. Harnish, who manages the Purchatr Cattery for her says they are all very fine and that Princess is most devoted to them. Princess was formerly the mate of Siam's Sancho and took such a dislike to two kittens she had by him that she refused to feed them though she would take good care of two others of the very same litter. It seems that Princess is a very temperamental lady.
---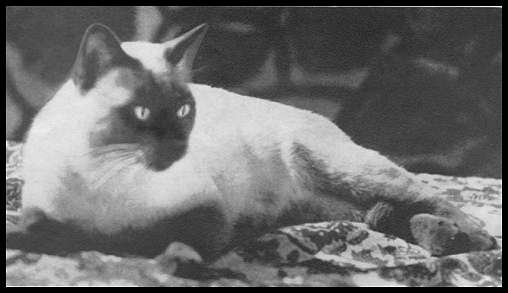 Champion Valhalla Mahatma M K Gandhi
Seal point male Born August 16, 1932
Breeder and Owner: Mrs. C.C.Strange - El Paso, Texas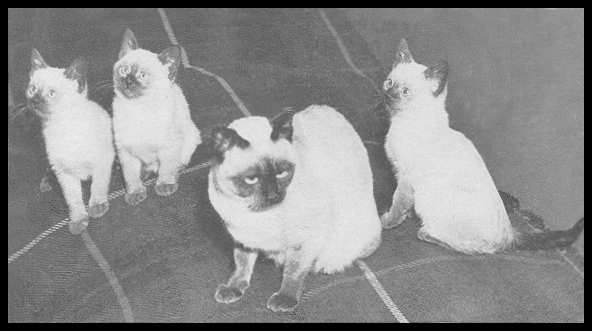 Champion Ki-Ku-Ko Of Valhalla Born 11-29-1932
(and her triplets- photo published 1938)
Owned by Mrs. C. C. Strange - El Paso, Texas
---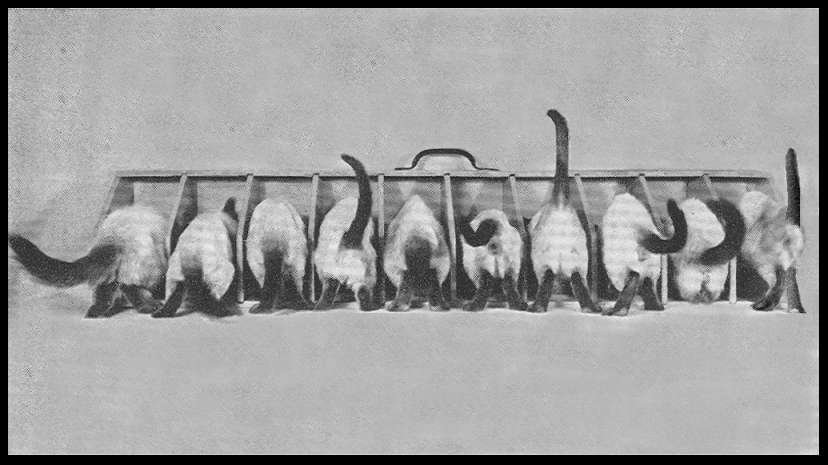 The kittens in this photo are from the Newton cattery. The kitten on the far left it is the "long haired Siamese" Mrs. Cobb created by crossing her Siamese with a purebred long haired black cat. Miss. Louise Frith, Purachatr Cattery, named him for Mrs. Cobb. His was christened Phya-Tak after the founder of the kingdom of Siam.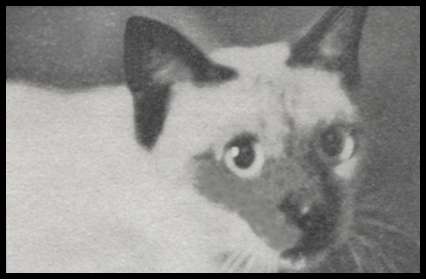 Chez Minet Tika Of Watermead Born 1-3-1933
Miss Marjorie Walrath - Salamanca, N.Y.
Owner: Mrs. George de Gersdorff - Bedford Hills, N. Y.
---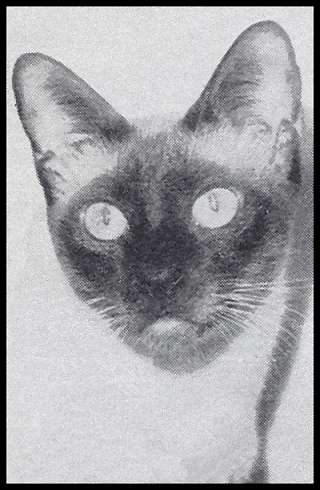 Champion Katchina Of Newton Born 3-20-1934
Compare this Siamese to our queen Maeve
Breeder: Mrs. Virginia R. Cobb, Newton, Massachusetts
Owner: Miss Muriel M. Glenz, Hemptead (Freeport), Long Island, New York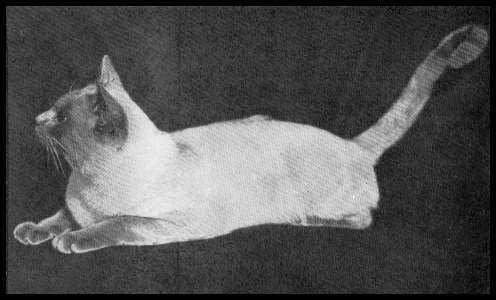 Champion Valhalla's Kwang Tung Born 03-01-1934
Blue Point Siamese Male
Owner: Mrs. C.C. Strange, El Paso, Texas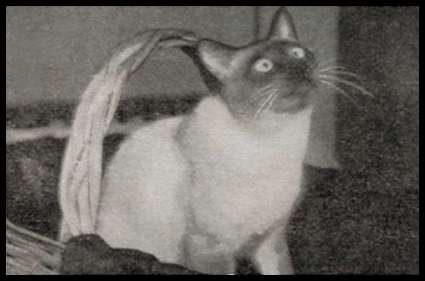 Valhalla Sayama of Rosebank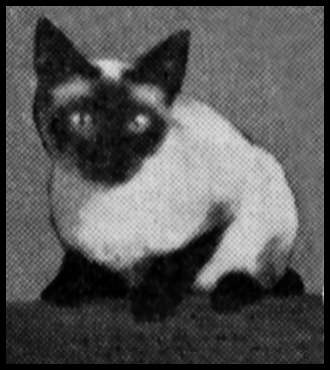 E-Vah-Loo of Newton born 6-1-1935
---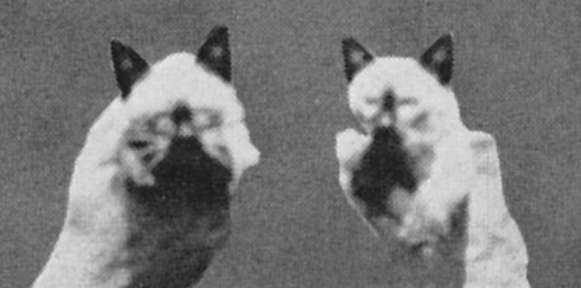 ---

Newton Cattery kittens 1936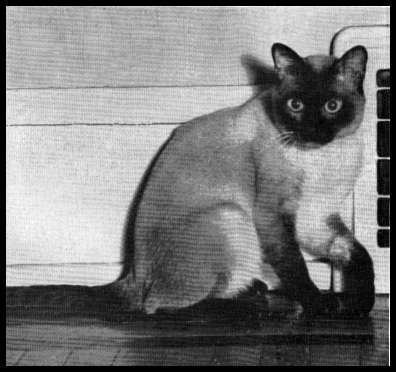 Pouf-Poulot De Pur Sang Born 12-07-1936
Seal Point Siamese Male
Sire:Ch. Sy-Mingo Of Newton Born 04-19-1932
Dam: Pei-Wei Born 09-15-1934
Owner: Mrs. K.I.Chambers, Merion, Pennsylvania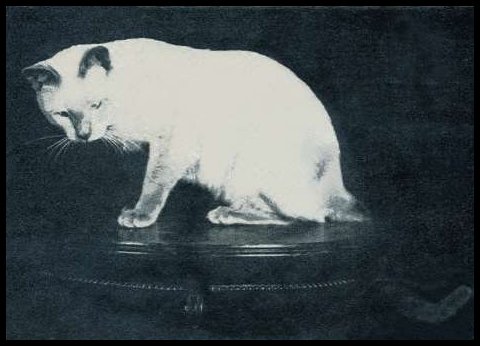 Siam's Sancho of Purachatr
Blue point male
Owner: Miss. Louise M. Frith - New York, N.Y.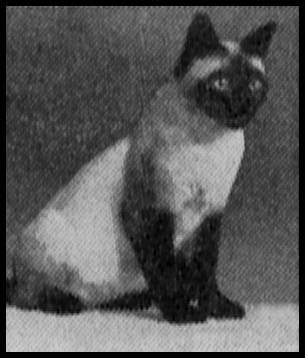 Champion Shela of Newton born 3-28-1932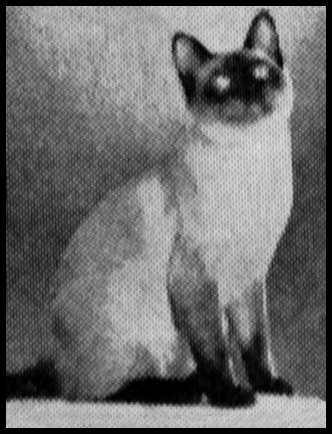 Ki-Wee-A of Newton born 4-25-1936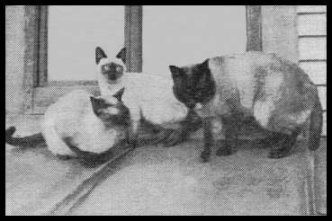 Ming King of Hillwood and Poona Purachatr born 9-5-1934
with their 4 months old daughter, Sudi Manshu of Hillwood.
Owner: Mrs. Ellwood Wilson, Knowlton, Quebec, Canada
Owner after Nov. 1936: Miss L. Frith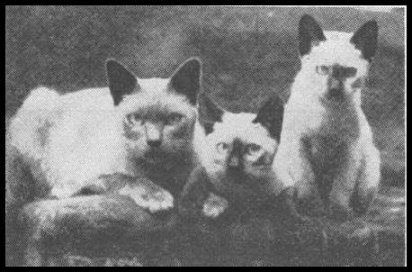 1936 Kittens and Siam's T'Sing Loa of Khyber born 1-27-1933
Owner: Miss Delle D.Smith, Bristol, Tennessee
The Khyber blood lines include many of the famous Newton champions.

Typical Mau Tien Vim and Vigor
Owner: Dr. J. C. Thompson, San Francisco, California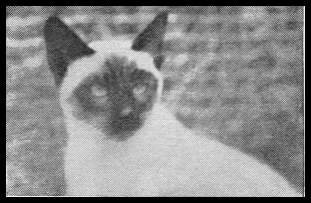 Princess Wangsy Purachatr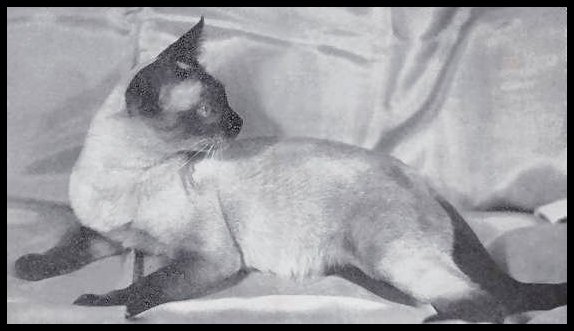 Coeur-De-Lion's Kaldini of Tuan Born 6-22-1936
Owned by Miss Jane Roberts - Gary, Indiana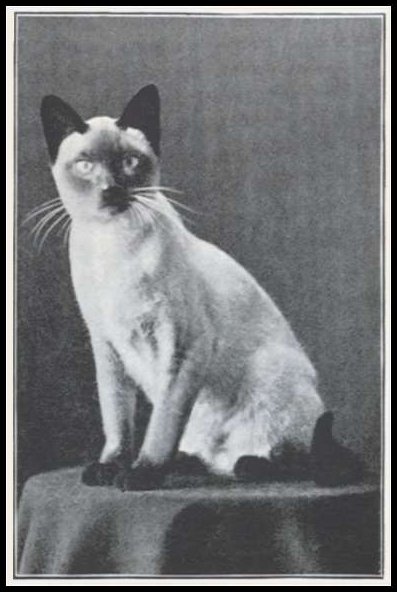 Chom, owned by Mrs. Cronise
Siam's son via dam Rowdy.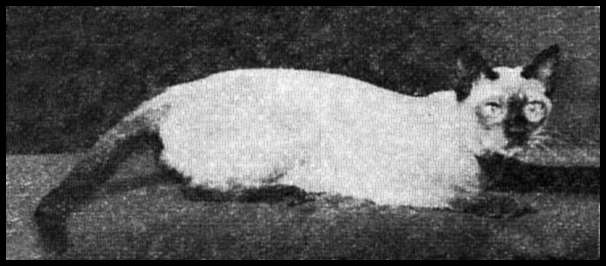 Naga of Angkor born 9-29-1936
________________________________________________________________________
Commander Joseph Cheesman Thompson M.D.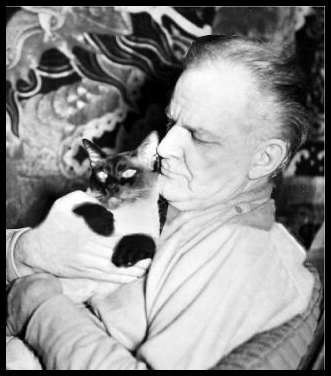 More about Dr. Thompson and his Mau Tien Cattery in 1936 Leading Siamese Catteries
Mau Tien was registered as a C.F.A.cattery name in 1936 and appears as #691 in Vol 17
C.F.A. Registrations Volume 17 Siamese foundation record - 1936
Tai Mau - seal point male (born 1/1930) registered under rule 6 (imported)
Tung Nui Mau - seal point female (born 2/20/1932) Sire: Tai Mau (imported) Dam: She Shan Mau (imported)
Pak Kwai Mau - seal point male (born 8/16/1932) Sire: Tai Mau (imported) Dam: Wong Mau (imported)
Ho Kik Mau - seal point male (born 1/16/1933) Sire: Tai Mau (imported) Dam: She Shan Mau (imported)
THE CAT CRIER - April 1936
Dr. J. C Thompson writes to tell us that we only got part of his Seal Point Siamese Female Novice name in the California Show Report. The name is Tai Noo Mau and she is the same cat which took first in the open as well as first and winners as a novice.
CATTYDOTES - November 1936
The Argonaut, San Francisco weekly paper, tells how Kwai Tse Mau (Son of the Devil) recently posed for his statue before a group of art students and adds he is the largest Siamese cat in America, weighing 151 pounds. Dr. J.C. Thompson, owner of the cat, says it isn't the California climet but a California printer who produced the unusual Siamese. He believes that at 15 pounds, correct, Kwai Tse Mau can take American heavyweight honors for Siamese.
________________________________________________________________________
CATTYDOTES - November 1936
My name is Peti-Sing, I live with Mrs. Lillian Mc Williams in Sarasota, Fla. I am feeling quite proud of my children which I took to the show in Toronto. My oldest son Ch. Rama Sing won first in the champion Siamese class and my little girl Dara won best Siamese kitten and best Siamese in the show was won by another son of mine Ch. Chi-Chi. I didn't do so badly myself besides going first and winners it was decided that I had the best eye color of all the Siamese. My owner Mrs. McWilliams is planning to take me to several shows this winter. I used to always become ill when she took me north but she has discovered that the water does not agree with me, so she will take some of our good well water with her from home. She thinks of everything.
---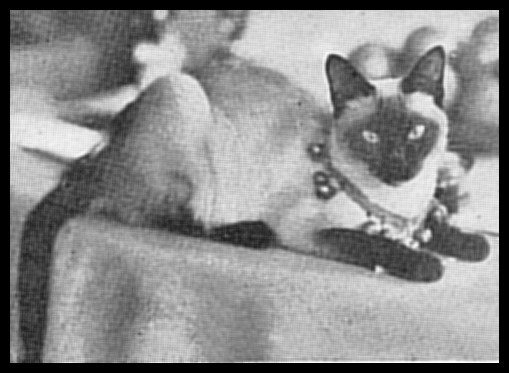 Champion Fairchild's Nyima Born 09-11-1937
Great Great Grand Daughter of Champion Siamese Star Mee-Zee Of Salina (shown above)
published December 1951 - Dr. and Mrs. L. H. Fairchild, when recently visiting Mrs. Bess Morse, informed her that they had lost their beloved Ch. Fairchild's Nyima, Seal Point, who was fourteen years old. She had a colorful show career and gave them many beautiful kits.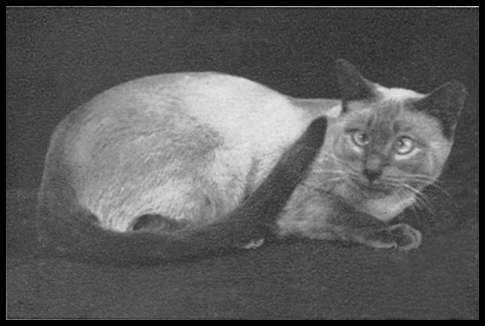 Double Champion Wan Tutsawan
Blue point female Born 10-6-1937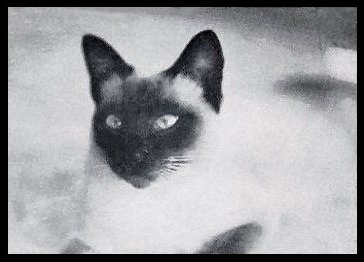 Patchperwa of Fairchild
Owner: Mrs. Helen G. Fairchild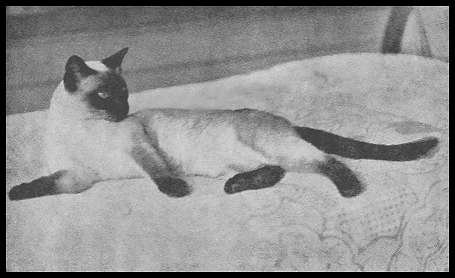 Patchperwa of Fairchild Born 09-25-1937
Great Great Grand Sire of:
4X Champion Wee Sal of Medicine lake
Champion Wallman's Prince Charmer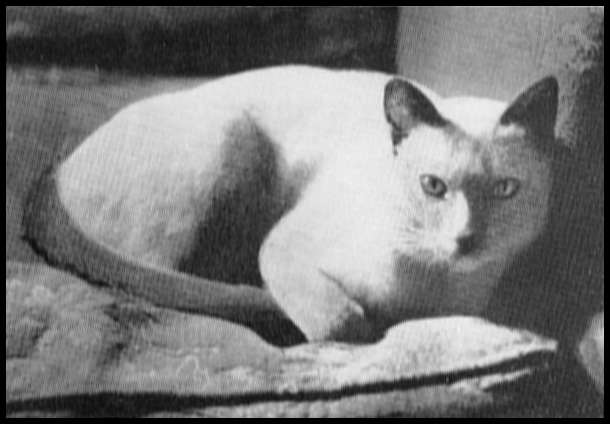 Siam's Blue Jack
Blue Point Siamese Male
Best Cat and Best Novice at the Siamese Specialty Show 1937
Breeder: Mrs. Karl B. Norton, White Plains, N.Y.
Owner: Mr. and Mrs. B.C. Olney, Rochester, N.Y.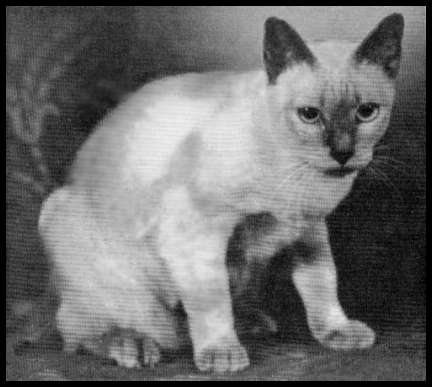 Mee-Tu
Blue Point Siamese Neuter
Best Neuter - Danbury Fair Cat Show, 1937
Owner: Mrs. L. R. Johnson, White Plains, N.Y.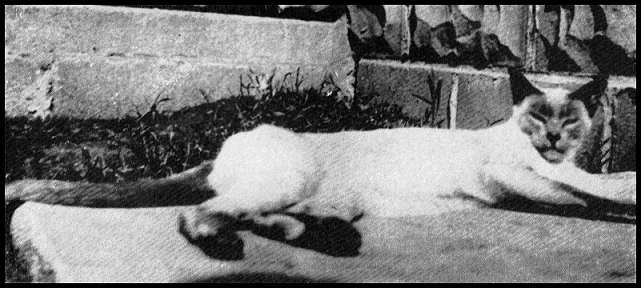 Double Champion Siam's Kin Chan II of Ming Kwong
Blue Point Siamese Female 15-SB-846
Best Siamese - Morris Grange Short Hair Specialty Show, 1937
Owner: Mrs. E.B. Bearden, Alden, Pennsylvania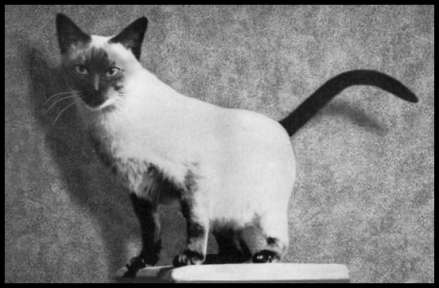 Ming Kwong Bonzo III
Seal Point Siamese Male
Best Kitten - Morris Grange Short Hair Specialty Show, 1937
Best Short Hair - Keystone State Cat Club, 1937
Best Foreign Short Hair - Atlantic Cat club 1938
Owner: Mrs. E.B. Bearden, Alden, Pennsylvania
---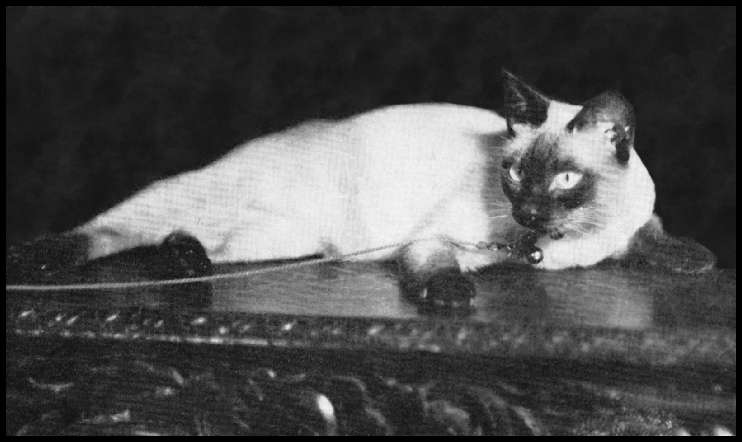 Prince Rahula
Breeder: Mrs. Louise S. Frith, New York, N.Y.
Owner: Mr. Charles L. Latham, Jr.,Balboa, Canal Zone.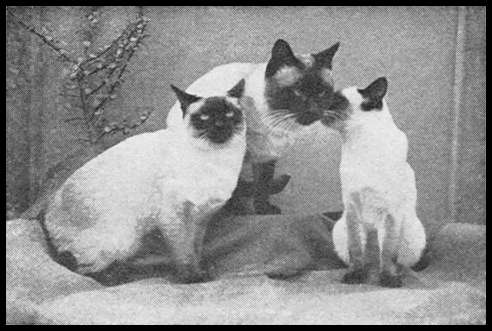 Champion Sam Peng of San Gabriel Born 03-09-1938
The grand dam Wong Mau listed in Sam Peng's pedigree was imported from Burma and based on her litters was found to be a Siamese Burmese hybrid.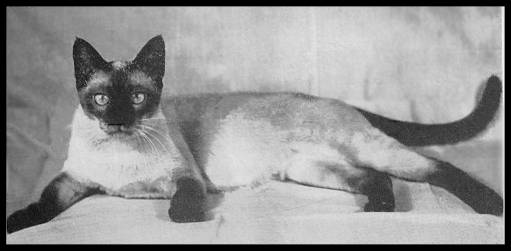 Coeur-de-Lion's Yana-Yan
Seal Point Siamese Female
Sire: Champion Sy-mingo Of Newton Born 04-19-1932
Dam: Champion Ki-Kee-Ko (as published in Leading Siamese Catteries 1936)
Owner - Miss Jane Roberts, Gary, Indiana
Photo published in the 1938 Show Hall of Fame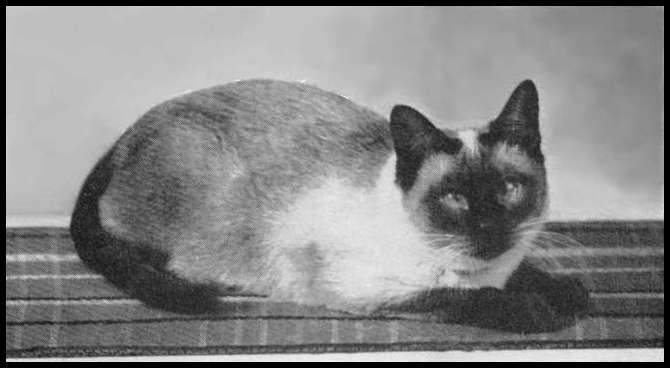 Mai-Kwong of Mekong
Seal Point Siamese Female
Best Foreign Short Hair & Best Short Hair - California Cat Club 1937
Sire: Saigon Kito-Koo Born 07-25-1934
Dam: Saigon Cho-Cho-San Born 02-04-1935
Owner: Mrs. Ethel W. Garson, Glendale ,California
Photo published in the 1938 Show Hall of Fame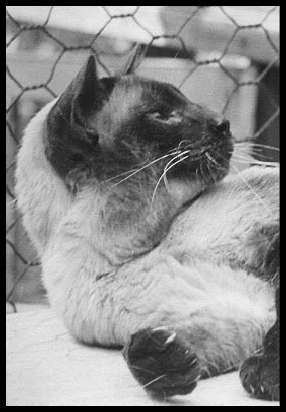 Oriental Nanki Pooh of Newton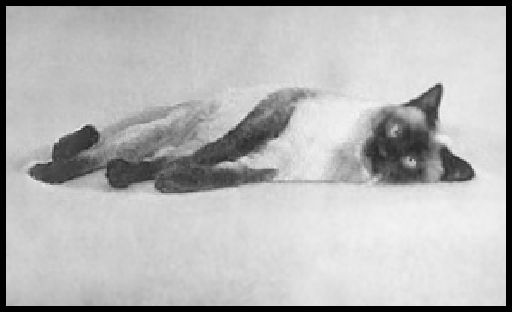 Oriental Nanki Pooh of Newton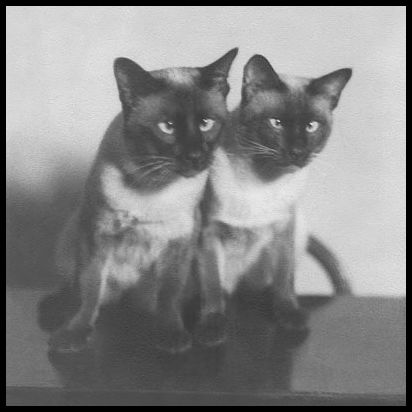 Oriental Nanki Pooh of Newton
---
Index of Historic Siamese Articles
---
All images, text, and all other contents of this site are protected by copyright law. There are presented here for educational purposes.
The contents of this site may not be reproduced, distributed, exhibited, published, or used in any form, in whole or in part, without prior written permission from the copyright holder.
All images, and text copyright © Black&Tan, 2000-2010 | All Rights Reserved | Contact
---