________________________________________
Long Haired Siamese
______________________________________________________________________________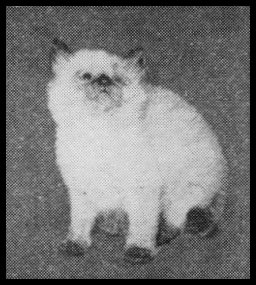 Debbie

(Debutante of Newton)

In THE CAT GAZETTE Mrs. Virginia R. Cobb *, secretary-treasurer, Siamese Cat Club of America writes:

June 1936

ANOTHER LONG HAIRED SIAMESE

Debbie has a little brother.

In other words the second long haired Siamese, this one a male, has been born at Mrs. Virginia R. Cobb's Newton Cattery in Newton , Mass.

If the birth of Debbie (Debutante of Newton) nearly a year ago left any cat fanciers skeptical about the long haired Siamese, Little Brothers arrival (he is not yet named) should remove all doubts. With a male it will be possible to speed the breeding of this new strain much more rapidly.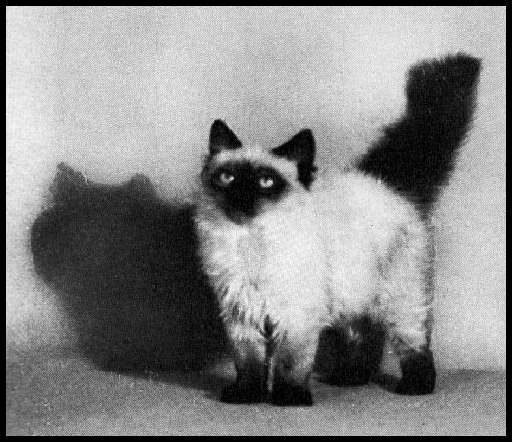 Per Thai
The long haired Siamese is a scientific crossing of the Persian and the Siamese. It differs from a half breed in that if a strain can be produced in conformity with the laws of heredity, the animals will breed absolutely true each time, whereas the half breed will throw progeny of half, quarter and eighth characteristics of one line or another.
Color varieties of Persians have been produced by more or less scientific crossing in the past. Where they are not absolutely true to standard, there has been some past mating not in conformity with the laws of heredity.
With Mrs. Cobb's long haired Siamese there is no chance of a "throw back" because laws of heredity have been followed. All of her matings have produced either black Persians or long haired Siamese, the former predominating. There have been no short haired Persians or black Siamese. Now, with a male, Mrs. Cobb will be able to establish a line that breeds only long haired Siamese each time.
---
June 1936
Mrs. Virginia R. Cobb, Newton Cattery, Newton, Mass., has just sold a very fine black male Persian advertised in the Cat Gazette last month, to Dr. and Mrs. Rex Whitney of Detroit, Mich., who tell us they are extremely pleased with him.
---
July 1936 in her column WITH SIAMESE BREEDERS Mrs. Cobb writes:
My long haired Siamese kitten is thriving. He is so heavy that when I pick him up, I think I have a brick in my hand. He is still nameless and suggestions for a name will be very welcome.
---
August 1936 a note in THE CAT CRIER says:
It took Miss Louise Frith, Purachatr Cattery, who is summering at her lodge in Maine to think of just the right name for Mrs. Virginia R. Cobb's long-haired Siamese male. He has been christened " Phya Tak" after the founder of the kingdom of Siam. What could be more appropriate.
---
November 1936 in her column WITH SIAMESE BREEDERS Mrs. Cobb writes:
A very interesting letter was received recently from Kathleen Barton Wright. Mrs. Wright is the founder of the New-Experimental Breeder Association in England. She has also been experimenting with the breeding of the Long-haired Siamese and in a recent Fur and Feather says, "The Americans have stolen a march on us." I have joined this English association and hope to have some interesting material to present from this correspondence.
_____________________________________________________________________________
* Mrs. Cobb was a well know Siamese breeder who worked with Dr. Clyde E. Keeler in developing new types of Siamese. A paper about the long haired Siamese was published in the September 1936 Journal of Heredity Volume XXVII, number 9. She also worked with Burmese and Abyssinian.
The black Persians used in her breeding program were not the short nosed show Persians of today.
_____________________________________________________________________________
May 1952 MRS. FLOSSIELU BEER WITH TWO OF HER "HIMALAYAN" PERSIANS. SIA-PER and PER-SIA, shown at the fifth annual Cat Show of The Colorado Cat Fanciers held Dec. 8th and 9th at Denver, Colorado were bred and owned by Mrs. Flossielu Beer of Hi Hat Kennels at 4760 South Broadway, Englewood, Colorado. They are a second and third generation cross of Siamese and Persian, and are line bred, as no long haired Siamese or Persian Siamese ever result from the Siamese and Persian cross. The Himalayans are bred from the black off-spring of the first matings.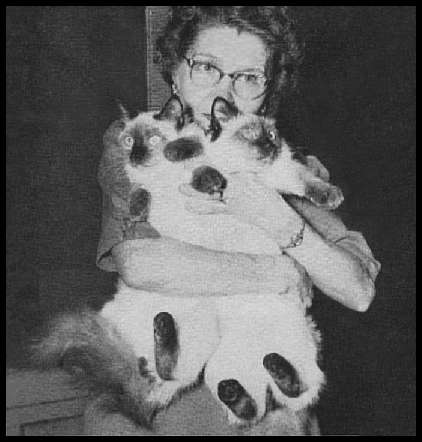 Although the mother of Per-Sia is one fourth Persian she looks just like a Siamese and when bred to a Siamese has Siamese kittens. These Cats have a coat more like a rabbit, with large bushy tails. The next generation should have the long Persian coat and type. The cats are very healthy and playful even though they are line bred or in bred.
The first scientific cross-breeding of Siamese and Persians was done in Sweden in 1924 by a Dr. K. Tjebbes. In 1935 Dr. Clyde E. Keeler and the well known fancier Virginia R. Cobb carried the experiment to its successful conclusion and produced the first long-haired Siamese. Since that time some success has been attained by several other breeders.
The Himalayan name was given to these cats by Dr. Siegfried, Mr. Bernfeld, and Suzanne Berfeld, who started with two black Persian Males and nine Seal Point Siamese females and in 1948 the first kittens of the third generation were born. As they did not have the time or space to carry the raising of the Himalayans further they advertised for some one to take their stock and carry on the breeding of the Himalayans. Mr. Fisher of the Forbidden City Kennels and Gallery is now continuing the development of this breed, I believe.
Everyone who sees Sia-Per and Per-Sia think they are very beautiful and so cute. They get on well with my Persian Cats, also with my Pomeranian and Pekingese dogs and have so much fun. They have a disposition all their own. Flossielu Beer
---
All images, text, and all other contents of this site are protected by copyright law. There are presented here for educational purposes.
The contents of this site may not be reproduced, distributed, exhibited, published, or used in any form, in whole or in part, without prior written permission from the copyright holder.
All images, and text copyright © Black&Tan, 2000-2014 | All Rights Reserved | Contact
---