advertisement
THE CAT GAZETTE MAY, 1936
______________________________________________________________________________
LEADING SIAMESE CATTERIES
(advertisement)
Although the Siamese cat is a comparative newcomer in America, his popularity has grown so rapidly that a number of catteries in this country and in Canada are raising Siamese cats. In some cases the Siamese are bred exclusively and in others they take their place along with Persians. A description of the more important Siamese catteries and their stock is given here.
______________________________________
AZURE-YZE CATTERY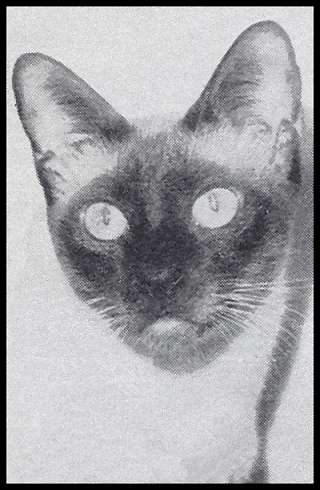 One of the most active promoters of the Siamese cat in America is Miss Muriel M. Glenz owner of the Azure-Yze Cattery located at 88 Atlantic Avenue, Freeport, L. I., N. Y. Miss Glenz was recently elected president of the Siamese Cat Society of America. She established the Azure-Yze Cattery in 1931 and it is registered in the G. F. A. as No. 728. Miss Glenz has numerous outstanding- specimens of both seal point and blue point Siamese. She is the owner of Ch. Katchina of Newton, winner of many firsts and best opposite sex Siamese in the 1934 show held under the auspices of the Empire Cat Club in New York.
This lovely cat has also won as best Siamese female champion and best champion at the New York Show in 1935. She was sired by Mrs. Cobb's Dbl. Ch. Sy Mingo, ex Ch. Shela. Another famous daughter of Azure-Yze is Princess Evon who started out as a blue ribbon kitten in 1935 and won a beautiful cup for best eye color at the Siamese show held in New York City, 1935. The Azure-Yze cats have well demonstrated that they can hold their own with the best and Miss Glenz has no difficulty in disposing of all the kittens she can raise. The famous Katchina is now the proud mother of four sons and one daughter, sired by none other than the beautiful Imp. Rosedere Shan-Son, which bid fair to go places in next season's shows.

______________________________________
COEUR-DE-LION CATTERY
The Coeur-de-Lion Cattery owned by Miss Jane Roberts has long been known as the home of fine Persians at its former location, Gary, Ind. This prominent cattery has recently been moved to Hobart, Ind. Yana-Yan, a fine daughter of Ch. Sy Mingo ex Ch. Ki-Kee-Ko, is the chief representative of the Siamese family in this cattery at the present time. She is from the famous Newton blood lines, but Miss Roberts fully intends to go into the breeding of Siamese in a big way and is in the market at present for a good Siamese stud.
Among the Persian celebrities in the Coeur-deLion menage, the piece de resistance is Dbl. Ch. Up Sweep, the blackest of black beauties, Ch. Eclipse of Coeur-de-lion, a solid red, Coeur-de-Lion's Thistledown, a blue-eyed white. Chief among the queens are Dbl. Ch. Lady Tiny, a white; Ch. Ann of Coeur-de-Lion, black, and Coeur-de-Lion's Show Baby, a blue-eyed white.
The blood lines include such widely known strains as Lavender, Superba, Erebus and Black Magic.
The new location of the Coeur-de-Lion Cattery is a true cat paradise. It is a lovely four acre farm with 500 feet of water front on Lake George. There are several fine buildings with every modern convenience and a new summer home for the cats, is now being built in a sheltered grove of forest trees.
Miss Roberts has obtained a Jersey cow, so that the cats will not lack for good fresh milk. There is also a slaughter house not very far off to keep the cat family well supplied with fresh meat. Miss Roberts has also acquired four white geese, two white crested ducks, eight white chickens, two white guinea pigs to complete the picture of rural contentment. The Coeur-de-Lion Cattery is open to the public the year round and makes an ideal summer camp for cat boarders.
______________________________________
DJER-KITS CATTERY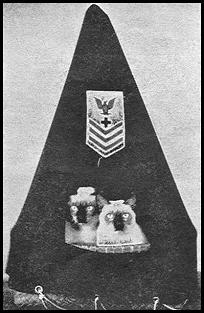 Djer-Kits Cats in Unusual Pose

Djer-Kits, owned by Mrs. Martin K. Metcalf, 3212 Klingle Road, N. W., Washington, D. C., was established in 1925 with its first Siamese imported from Manila, although it was not registered as a cattery until 1928. Among the Siamese imported direct were the two from Manila, one from Siam, one from China and two from France. Ch. Djer-Kits Chinkaling of Newton, imported from England by Mrs. William Hard, is now ten years old and has become famous.
One of the imported males, Ch. Cordome's Djer­Kits' Po-Go of Paris, has sired several champions, among them Ch. Djer-Kits' Petaling of Wyandotte, Ch. Djer-Kits' Chin Tan's Silka, and Ch. Loma Linda's O'Miya of Cordome.
A pair of blue points and a seal point female from the Siamese Star Cattery were soon added, and although the male died young, the blue point female, Chin Tan, made a number of fine wins and produced excellent kittens. She was considered an outstanding blue point, and proved it by going best short-hair twice over the seal point contingent.
One of her kittens, by Po-Go, is Silka. who. is both an A. C. A. and C. F. A. champion. This little cat has been six times best short-hair; four times best opposite; seven times best Siamese; five times best opposite and three times best Siamese champion -- all in thirteen shows, and under eleven different judges. Her A. C. A. championship was won by beating all comers for four successive years, as she was shown in the A. C. A. only in her home town. She is now six years old and holding her own in the shows.
Ch. Djer-Kits' Tabby Cottage Djeri, Silver Tabby, was put through her show paces and had several families before Mrs. Metcalf decided to specialize in the short-hairs, Siamese and domestic. Ch. Djei­Kits' Kricket, black domestic, won her championship at nine months, and has been best domestic four or five times, and went to best cat and best champion at the Domestic Short-Hair and Manx Society's show last November. Djer-Kits' Rosebank Toya, tortoise­shell was best novice in the same show and won her championship undefeated in four successive shows.
Although forced to give up breeding for several years and to dispose of most of her cats, Mrs. Metcalf now has a promising young Siamese female, Djer-Kits' Chinkaling Too of Newton to carry an her mother's reputation
______________________________________

EL-JAY-GEE CATTERY

As we travel down to the sunny south to the Land of Flowers, we find the El-Jay-Gee Cattery, an ideal spot for the Siamese cats, located at Tarpon Springs, Florida, owned by Mrs. Laura J. Graham, 24 West Boyer Street.
This cattery was established in the fall of 1926, but was not registered until 1932. In the past four years the El-Jay-Gee Cattery has made same very outstanding wins an its smoke and black Persians and it was not until the spring of 1935 that the Siamese cats were added to this cattery.
Mrs. Graham after making a study of the Siamese cats and the breeders of the best blood lines in America, met Mrs. McWilliams then a novice breeder, who had one of the best Siamese she had seen in the South and what a joy it was to both to see this cat and his two sons go to best Siamese in the show and best seal and blue paint male kitten with about 15 Siamese shown.
Mrs. Graham is the proud owner of one of the kittens by El-Jay-Gee's Kee-Kee-Sing and in this past show season, both in the North and South has won several blue ribbons, best seal point novice and best Siamese in the show, also a second in the Siamese Cat Society of America. Desiring a mate far Kee-Kee-Sing, Mrs. Graham sent to Mrs.Virginia R. Cobb to pick out one of Dbl. Ch. Sy Mingo's daughters. This little female has "done herself proud" so far with first and winners and best female and the El-Jay-Gee Cattery is looking forward for the happy event when the new babies of the above pair arrive.
______________________________________
HILLWOOD CATTERY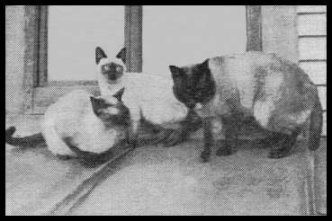 La Niche des Chats de Siam
Ming King of Hillwood and Poona Purachatr with their 4 months old daughter, Sudi Manshu of Hillwood.

On the shores of beautiful Brome Lake in mountains of the historic Eastern Townships of Quebec, Canada, is the Hillwood Cattery, Registered I. C. C. No.. 9 and C. F. A. No. 744. The idea of the owner, Mrs. Ellwood Wilson. of Knowlton, Quebec, Canada is to breed a strain of the famous royal Siamese cats which shall have above all perfect health and vigor. From the time the kittens are born they are given plenty of fresh air, and, whenever weather permits, outdoor exercise. This gives them that lithe and supple grace for which this breed is noted.
They are trained from kittenhood in good house manners and are taught to be companionable. They are never allowed to be frightened or teased and therefore make ideal pets. They are intelligent and easily taught.
Mrs. Wilson believes no other cat is such a real aristocrat as the Siamese. No other breed has such interesting and fascinating habits.
Never having been caged, and spending so much of their time out of doors, the Hillwood royal family, Ming King of Hillwood and Queen Poona Purachatr of the famous Bonza II and Lanfine Man-O-Lo strains and their offspring have superior size and stamina.
Siamese kittens and young cats are very affectionate and playful and can be easily trained. One of the Hillwood kittens fetches and carries like a dog, turns somersaults and does other amusing antics. Recently when a neighbor who was kind to him passed away, Ming King of Hillwood sat far days in front of her door mourning his friend.
There are few of these cats in Canada and it was with the idea of introducing these charming pets into this land that the Hillwood Cattery was founded.
______________________________________

KHYBER CATTERY

In the mid-south section of the country, we find a very up to date cattery established in 1929 by Miss Delle D.Smith at 110 Fifth Street, Bristol, Tenn. Miss Smith, is the head of biological department at the Bristol, Tenn. High School. She is a very active promoter of both the seal point and blue point Siamese and has been so successful as a scientific breeder of high class stock, that the Khyber cats have received national as well as local recognition.
While the Khyber Cattery was originally started as a hobby with blue and black Persians, it has fast developed into a real industry and still features the best in both Persian and Siamese blood lines. Among the well-known stars of Khyber is Chiang Kai Chek, descendant of Ch. Bonzo I of England and Khyber's T'Sing Loa of Siam, a blue point stud. One of the best known queens of the Khyber clan is Chowfa Maha.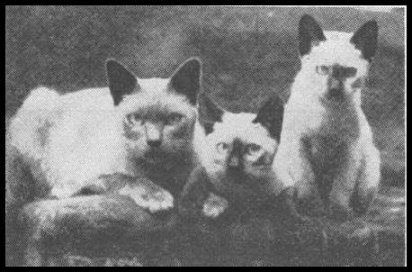 The Khyber blood lines include many of the famous Newton champions.

The Khyber Cattery is quite a modern apartment house, with a separate lounge for the males and nursery for mothers and kittens. Below the sleeping apartments there is a gymnasium, equipped with swinging balls and rolling toys to give the cats amusement and exercise. There is also a hospital, for the isolation of an ailing cat, until it is completely restored to health.
Miss Smith teaches chemistry and biology and has a private laboratory at her home. She finds her knowledge of biology a great help in her cat activities as she makes frequent microscopic examinations to determine the exact physical condition of her cats, and no cat goes out from or comes into the establishment without a physical examination.
______________________________________

MAU TIEN CATTERY

Typical Mau Tien Vim and Vigor

Mau Tien means "cat heaven" and this is what Dr. J. C. Thompson, 1230 Washington St., San Francisco, Calif., has established for his Siamese cats. The parent stock for this cattery came from their native land and the owner makes every effort to keep the original characteristics of the native breed, regardless of standards set up for show -stock.
Among the Oriental bred Siamese the eyes are a Dresden china blue and fully one-third are crossed. One half the tails vary from being straight, with the normal 13 joints, to tails reduced to two or three joints, with from one to five kinks.
Because Mau Tien does not raise Siamese cats commercially, no effort has been made to eliminate these native characteristics.
The cats are fed on a diet of lean beef, liver, fish and grass. Also, because of the California temperature, they are able to live in the open air the year around. The effect of this diet and mode of life has been to increase the size of the cats. The imported sire, Tai Mau, weighs seven and a half pounds while his son, Pak Kwai Mau tips the scales at ten and a half pounds. But the real "jumbo" Siamese of the cattery is Kwai Tse Mau, son of Pak Kwai Mau and Tai Noo Mau, which weighs 15 pounds.
Dr. Thompson takes a personal interest in each of his cats and finds it a real pleasure to receive visitors and show them his cats. He finds many persons who are interested in this rarely charming personal type of pet.
In addition to his Siamese, Dr. Thompson has been instrumental in creating interest in the Burmese cats in America. It is largely through his untiring efforts over a number of years, that the Burmese standard has been accepted and the Burmese cat permitted to compete for championship points in shows of the Cat Fanciers' Association.
______________________________________
MING KWONG CATTERY

One of the oldest active Siamese catteries in America is the Ming Kwong Cattery, the home of champions, 301 Birchwood Road, Aldan, Pa., established in 1926, and owned by Mrs. Elizabeth B. Bearden.
Mrs. Bearden purchased three females from the Siamese Star Cattery in 1927 and in 1928 the gorgeous Bonzo II was added to Ming Kwong, from the same cattery. Imported Sum, in spite of her 11 years" is still producing.
Ch. Wu Chang, daughter of Bonzo II, competed with 43 Siamese in New York, Philadelphia and Detroit to complete her championship. She is still undefeated in both class and eye color.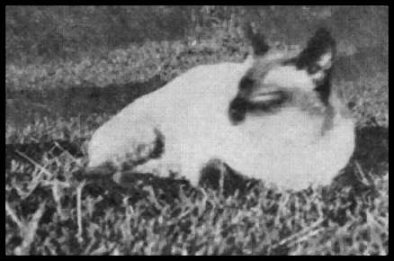 The above snapshot of Imported Bonzo II was made when he was nine and a half years old. His famous father won seven championships and more than 100 prizes, and won the Austrian Cup for being the best sire for five consecutive years, judged by his get. Bonzo II has sired as many as two champions and a third cat which went Best Siamese in ONE litter of four kittens.
Another Ming Kwong stud is Ch. Sing Po. He is noted for his extremely fine head and beautiful eye color. He is unrelated to any other stud in America, his imported sire having been neutered.
The consistent winning of the Bonzo strain, emanating from the Ming Kwong Cattery proves conclusively they are the pick of the world's best.
The Ming Kwong Cattery offers kittens by Ch. Wu Change. Ch. Wen Boa, Ch. Sing Po and Db!. Ch. Kin Chan II.
______________________________________

MING SONG YEN CATTERY

Another interesting cattery specializing in seal point Siamese in the land of perpetual summer is the Mingo Song Yen, established last year by Mrs. Sonia Fitz-Gerald, 2820 S. W. 25th Street, Miami, Fla. Though comparatively new in the fancy, Mrs. Fitz-Gerald has lost no time in corralling first class stock from the outstanding seal point blood lines in the country. .
Songareitta was Mrs. Fitz-Gerald's first female kitten. She was purchased in 1932. Later Se-Yen, a gorgeous male was purchased as a mate for Songareitta, affectionately known as "Songa." Some very fine kittens have been obtained from this pair.
Eventually another stud was added and two very fine queens. One of them, Ming-Chu-Po, and also Patti Sing, which has just presented her mistress with some especially fine kittens, and another litter from Ming-Chu-Po is expected this month. Mrs. Fitz-Gerald also has with her Ch. King Sistowahr and Dbl. Ch. Loti Sito belonging to Dr. Hume.
The Ming Song Yen Cattery has just been remodeled around an open court. Each pen is 10 by 10 feet. The houses are 4 by 4 feet and open into 10 by 10 wire runs. There is also a nursery 12-by 4, which provides sun and shade for kittens. It is divided into two compartments on one end and is completely screened. The new open court is also to be entirely screened, it includes a pool, flowers and benches as a recreation ground for the cats.
Mrs. Fitz-Gerald makes it a point to give the best of care to all her cats, hence she has had very good luck raising husky kittens, none of which are sold under three months of age.

______________________________________
NEWTON CATTERY

One of the best known catteries specializing in Siamese is the Newton Cattery, registered in the C.F.A. No. 717, owned by Mrs. Virginia R. Cobb, 374 Kenrick Street, Newton, Mass. Mrs. Cobb established this cattery many years ago, starting with silver Persians. Mrs. Cobb is secretary of the Siamese Cat Society of America and corresponding secretary of the Boston Cat Club. For many years she has been one of the most active promoters of the Siamese cat in America. Today the Newton-bred Siamese are consistently found among the top-notch winners in most of the shows, so that the Newton blood lines have come to be known as one of the best to be had.
Mrs. Cobb tells about the Newton beginnings as follows:
"One of my first cats was a black Persian, Susannah of Newton, which made her championship under strong competition at 10 months.
"While showing in New York I saw the Siamese of Mrs. Martin Metcalf. They intrigued me greatly, then the fact that Mrs. Metcalf sold three males at this show for $75 each, interested me, too. I bought Imp. Ch. Djer-Kits Chinkaling from Mrs. Metcalf.
"While I have always loved cats, there are none that are quite as interesting to me as the Siamese. At the present time I have three Siamese females and one male, this being Dbl. Ch. Sy Mingo of Newton. As he was the first cat of my own breeding who went out and did well for us in every show he attended, I have always felt very proud of him. Then when he and Chinkaling have repeatedly given me cats such as E-Took-A Shoo, Ootah, Ch. Katchina and E-Vah-Loo, I must feel very grateful to this lovely mother and son.
"I expect the thrill of the 1933 Siamese Specialty Show in New York will never be felt again; Best Cat, E-Took-A-Shoo; Best Opposite Sex. his mother, Chinkaling, and Third Best Cat, his father, Sy Mingo. I have never seen that record equalled, but of course I am not sure. I think that year's show had about forty cats competing. Chinkaling was seven years old at this show.
"At the 1934 Specialty Show, Ch. Katchina (now owned by Miss Glenz) was Best Opposite Sex and Ootah, Best Kitten. Katchina was sired by Sy Mingo, out of Ch. Shela, which is Chinkaling's grand­daughter. Ootah was also of the same breeding. At last year's Specialty Show, Mr. Frederick B. Eddy judging, E-Vah-Loo was Best Cat.
"Through these years I have tried to show good cats, well cared for, and the fact that they have won so much shows me that this must have made an impression.
"Siamese cats have improved each year at the shows. You do not see as many kinked tails or crossed eyes. I would like to see more pointed heads, right down to the muzzle, and darker masks, legs and tails."
______________________________________
PURACHATR CATTERY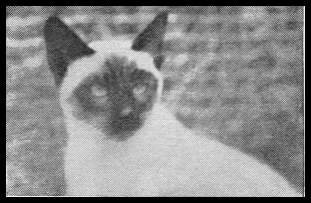 Princess Wangsy Purachatr

The Purachatr Cattery, C.F.A. No. 695, established in August 1934, is located at Mt. Desert, Maine, and is owned by Miss Louise Frith, Apartment 4 M, 277 Park Avenue, New York City. The first stud cat was a seal point, King Purachatr. The queen was a blue point, Lanfine Wangsy. The kittens are seal points with blue point ancestry from their dam and also their granddam, Ch. Lanfine Mon O'Lo.
The Lanfine blood line includes such cats as Ch. Carlisle Lad, Errol. Si He, Robin Goodfellow, Queenie, Bigaboise, Southampton Siam of Bankok, Minna of PetaJing, Ch. Siamese Star Miskin of Petaling. Siamese Star Tai-Yun, Kailas Lanfine Kailula, Lucille, Hamara. Shelagh. Manchu, Ch. Isma Lanfine, Petaline Chanti, Petaling Riku, Datch of Petaling, Chocolet Cream. Miri, and Little Puma.
The above described blood line is only distantly related to Siam's Chief Noda, a blue point champion in the C.F.A. and also in the C.F.F.
The pedigree of Siam's Chief Noda includes the names of Ch. Siamese Star Ping Teing, Ch. Siamese Star Prince Favo, Robin Goodfellow, Queenie, Ch. Siamese Star Miskin of Petaling, Southampton Siam of Bankok, Minna of Petaling, Siamese Star Valentine of Bedale, Simmie, Chulah of Bedale.
Lanfine Wangsy had four kittens in her 1936 spring litter. Chief Noda arrived at the cattery at sunset on April 4th. The blue point queen, Lanfine Wangsy, had died at noon of that day.
These two blue point blood lines will, Miss Frith hopes, produce some blue point kittens by Ch. Siam's Chief Noda out of Princess Wangsy Purachatr, shown above at the age of five months, and out of Songkla Purachatr, two young females, kittens of King Purachatr out of blue point Lanfine Wangsy.
The Purachatr Cattery consists of a dry sunny house, with broad shelves covered with feather pillows in woolen slips in the windows. The walls and ceiling are covered with rubber rug lining. The sun windows do not open. Ventilation is from a small window at the opposite wall. The window has a wooden wind shield on the outside. A covered run­way leads out into an enclosure 50 ft. by 75 ft. long. This enclosure is sunny open woodland. The door to the enclosure is never closed.
______________________________________

ROSEBANK CATTERY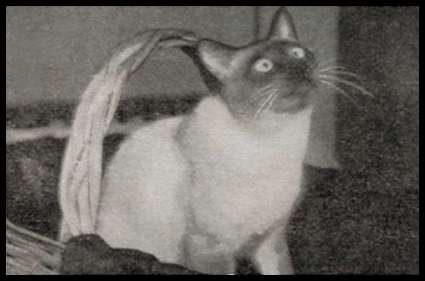 Rosebank Sayama of Valhalla

The Rosebank Cattery, one of the largest in the country, registered in the C. F. A. No. 535 and in the C. F. F. No. 97, was established in 1926 by Mrs. Lucille Ashcraft Purnell. It is located on the Spring Hill Road , in Salisbury , Md.

Besides a dozen very fine Siamese, the Rosebank ménage also includes blue, red, black, tortoiseshell, cream, white and silver Persians. It is the home of a long list of famous champions, in each of these many colors including undefeated male Ch. ZanZana, Ch. Bozo. of Bingo., and Ch. Hostlens Spitfire.

Some of the female champions are the undefeated Ch. Marigold, Ch. Ruffly Pierce, Ch. Blue Stocking, Dbl. Ch. Ozma of Ozz and Ch. Ginza Girl, to say nothing of an imported domestic short hair, Ch. Strange Interlude.

Mrs. Purnell is a strong believer in working to. improve the home-bred stock and has consistently bred to eliminate the kinked tails formerly so prevalent in the Siamese breed. She tells the interesting story of the Rosebank Cattery as follows:

"The breeding of Siamese, to me, is very interesting and the raising of them more so, as they change all the time and interest never lags. My first Siamese babies made me sick, when I found them pure white at birth, I just knew there was a "stay cat in the woodpile" some where. (I edited this to remove a racial slur and added "stray cat" in its place… B&T) But in a few days I found the points coloring up nicely, and since then I have learned lots.

"I have been raising cats for ten years, and while I raise Scottie dog's too, my cattery has not gone to the dogs, for cats are my first love. I have 40 Persians and 12 Siamese, making 52 grown cats, and so far I have 5 Siamese babies, all straight tails and 5 Persians and 20 more queens expective families.

"My cattery is built in three sections. One

shingle bungalow, 18 by 30, partitioned off in rooms

6 by 6 and one large room for a work room. Each room has an outside run with a sand yard.

"My runs are from 6 by 8 to 6 by 18. I have a maternity house with eight rooms in it and another house for summer use. Have plenty of shade trees and many vines, and the name of Rosebank comes from all the banks of roses on the runs. My cats are all fat and happy.

"My new stud is Sayama of Valhalla, seal point Siamese, a very large fellow with a wonderful disposition. He loves the world. He will ride on any visitor's back, is a wonderful sire, throws all straight tails, when bred to queens with the same quality. He was bred and raised by Mrs. C. C. Strange of EL Paso, Texas, and I found him everything she said he was.

"A Siamese is a real pal if you will let them be one. I can sell every Siamese kit that I can raise. I welcome visitors to inspect my place and my cats and gladly answer all correspondence promptly."

______________________________________

ROYAL CATTERY

Even in far away Hawaii , the alluring land of song and leis, the royal sacred Siamese has also come into his own. One of the leading catteries on the islands, specializing in the seal point Siamese, is appropriately known as the Royal Cattery and is owned by Miss Lelia M. Volk. It is situated at 264 Paoakalani Street in the beautiful city of Honolulu .

All cats imported to the islands must go through four months quarantine at 20c per day. Even kittens must remain 120 days. Prince Prajadhipok was no exception and was lucky to be released from quarantine just the day before the 1935 Honolulu Cat Club Show and walked off with Best Opposite Sex in spite of all he had recently gone through as a traveler. He is truly a beauty and expects to make himself felt definitely among the toppers in Siamese Society. Among the female celebrities of Miss Volk's Royal family are Princess Li Ta of Ching Ming Tai, who went best opposite sex at the Oakland Cat Show in 1934, and best Siamese at the Honolulu Cat Club Show in 1935. She was bred to. Imp. Ch. Bernadette and four of her children were born while she was still kept in quarantine occasioning her owner considerable work and inconvenience. Another young and interesting winner is the little Princess Che La who was awarded best Siamese kitten in the recent show held on the islands.

While the Royal Cattery is young, was only established in 1935, it already numbers some very fine winners and includes in its blood lines such famous cats as Imp. Ch. Bernadette and Nan Ky Moon, both of San Francisco . With fine quarters in an ideal climate, the Royal family is gaining constantly in health and prestige.

______________________________________

SAMITE SIAMESE KAT KENNEL

The Samite Siamese Kat Kennel was established in 1933, with the purchase of Wendi Cha of Yates-de-Airy, a female bred by Mrs. D. K. Yates of Philadelphia , by C. Evans Sawyer, Jr. This Kat Kennel is located at 51 Everett Avenue , South Portland , Maine .

The only time Wendi was shown she took the championship points for that show and trophy for best novice in the show. At the same show, two of Wendi's male kittens took the first and second honors in a large kitten class. One of Wendi's daughters, Samite Madam Butterfly, is being retained for future breeding.

The stud in this cattery is Goodrich's Sir Thomas. He is the sire of the above mentioned kittens. Sir Thomas reproduces both type and light body color in his offspring.

Cats in this cattery are fawn with seal points and carry Ch. Simple, Ch. Bonzo, Ch. Sing-Po. of Ming Kwong, Ch. Djer-Kits' Chinkaling of Newton and Ch. Lanfine Isma blood.

The object at "Samite" is to produce healthy, happy kittens and to develop a strain of Siamese that combines the qualities of the several modern blood lines.

"Samite" owes a lion's share of its success to. Mrs. Blanche M. Sawyer, the owner's mother. She is an ardent cat fancier and is untiring in her efforts.

A quality which is especially commendable in these cats is their sweet and affectionate disposition

and friendliness, having been brought up and trained in the owner's home.

The cats' constant companion and playfellow is a "Wirehaired Terrier."


______________________________________


SARASOTA SIAMESE CATTERY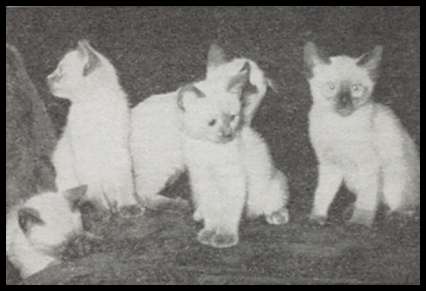 Siamese Kittens of the Sarasota Siamese Cattery
In the beautiful land of flowers, the Sarasota Siamese Cattery had it beginning. It was established in 1933 by Mrs. Lillian McWilliams, Box 906 , Sarasota , Fla. In August of that year, Mrs. McWilliams purchased Peti-Sing of Yates de Airy. Later one of Ch. Wangsy's female kittens, sired by Tobermory of Storisende, was added to the family.]
Mrs. McWilliams did not start showing the Sarasota cats until 1935 and since that time has accumulated all the following wins:
At the Magic City Cat Show, Miami, Fla., January 1935, Peti-Sing of Yates de Airy took Best Siamese and first and winners in the Novice class; Rama-Sing, male blue point, first and winners in the .kitten class and Ki-Ki-Sing went Best Kitten.
At the Canadian National Exposition, Toronto, Can., August 1935, Peti-Sing of Yates de Airy took first in the male open class; Rama-Sing, first and winners in the male blue point. novice class; Kuta, first and winners in the male kitten class and Best Siamese in C. N. C. C. Sari-of-Sarasota, first and Best Kitten; Bluette of Sarasota took first female blue point kitten.
At the show in Alexandria, Va., Rama-Sing took best blue point, best short hair and Best Siamese; Chief Chi-Chi, Best Seal Point. At the Empire Cat Show held in New York in November 1935, EI-Jay" Gee's Ki-Ki-Sing took first male novice.
At the Jacksonville Cat Show, December 1935, Rama-Sing took first and winners in the blue point male open class and completed his championship and EI-Jay-Gee's Ki-Ki-Sing went Best Siamese.
Ch. Chief Chi-Chi, won best seal point before he was a year old, besides. going Best Seal Point Siamese in Alexandria he has had the following wins: Best Siamese at the Cleveland Persian Society show, Toledo Cat Fanciers' show, Ohio State Persian show at Columbus , 0., and at the Baltimore Cat Show. He lacks winning at one more show to be a double champion and Rama-Sing, who completed his championship at Jacksonville , will, it is hoped, also be a double champion before the year is over.
The third litter by Peti-Sing and Yang-See, pictured above at six weeks of age, seems to be the most promising specimens they have had yet.
______________________________________
VALHALLA CATTERY
One of the best known catteries devoted exclusively to the royal sacred Siamese is the Valhalla Cattery, which was established in 1926 and registered in the C. F. A. SBX 595 in 1930 by Mrs. C. C. Strange, 3304 Bisbee Street , EI Paso, Texas .
Mrs. Strange is one of the few breeders raising the blue point as well as the seal point Siamese. The kingfish of this cattery is the famous undefeated Ch. Mahatma M. K. Ghandi, a lovely seal point, winner of best cat in the show at EI Paso in 1935. There is also an outstanding blue point, Valhalla Kwong Tung, a son of Dbl. Ch. Siam's Chief Noda. Among the best known females of the species in the Valhalla menage are Ning-Po of Valhalla , who won first and winners every time shown and also went best opposite sex at the EI Paso show in 1934.
The Valhalla blood lines include such famous winners as Imp. Tifils de Bonneville and Mlle. Lilli de Roscoff also imported. Then there is Imp. Whiteman's Jazz Queen An and Imp. Jazz King Si.
The Valhalla Cattery is one of the most up to date establishments of its kind. The various cat houses are built of rock with a 20 by 20 lattice run with a miniature cottage in the enclosure. There are several grass runs 9 by 10. There is also an enclosed room, scientifically built to be warm in winter and cool in summer.
Last but not least, there is a especially equipped maternity ward, which includes a kitty coop and other conveniences, among them a couch where Mrs. Strange can spend the night when the stork is hovering near any of the Siamese family. The entire back yard is enclosed with a rock fence eight feet high in the rear and five feet on' the sides.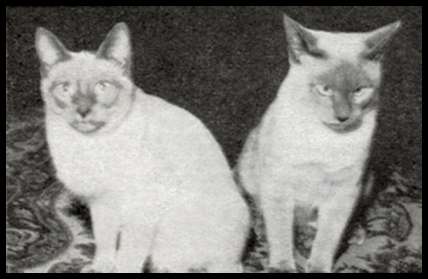 Valhalla 's Kwang-Tung and His Pal

A wisteria arch adorns the gate and other beautiful vines give shade to the lattice runs. Fig and mulberry trees and beautiful flowers complete the picture of this cat paradise.

Mrs. Strange has been so very active in promoting the Siamese cat in America that it is little wonder she cannot keep up with the demand she has for her stock, reared as they are with all these refinements designed for their well-being.

______________________________________

WATERMEAD CATTERY

Among the Siamese at the Watermead Cattery, owned by Mrs. George de Gersdorff and located at Bedford Hills, N. Y., is a little occupant whose great grand sire was sent to America by no less a personage than His Majesty, King Prajadipok of Siam.

In 1931 when King Prajadipok came to this country to undergo a critical operation to save his eyesight, he was entertained at dinner by Mrs. T. A. Thomas of New York , and upon departing for home he asked his hostess to suggest some gift he might

send her from Siam . Mrs. Thomas expressed a wish for a Siamese cat.

In due time a handsome pair arrived direct from Siam . They are no longer living, but they have left several descendants one of which is the little seal point male "Prince Damras" of Watermead who is so friendly with everybody that he may be described

(for royalty is always so described in our newspapers) as "thoroughly democratic in manner."

Prince Damras is only a kitten and it is hard to prophesy how any kitten will develop. One can only say that this sprig of royalty so far has very dark points and very blue eyes, that he is a joyous little creature and is hoping to try his luck at shows next season.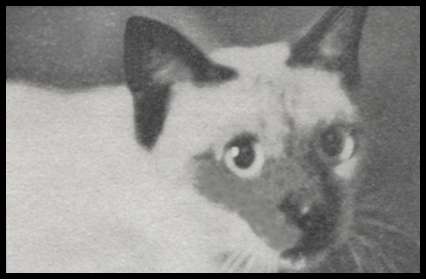 Chez Minet Tika

If you are fascinated by the Oriental origin of the Siamese cat you will be interested in the following extract from an article written by Mr. H. D. Bassett some years ago and published in the English Siamese Cat Register:

"A visitor to the temples in Siam and Anam occasionally sees a seal colored cat with blue eyes therein, and on inquiry will be told that the 'hao mao' (pretty cat) belongs there. If that does not satisfy him the bonze (priest) becomes very vague in his replies and the visitor gives up the attempt of extracting information, setting the bonze down as stupid. He is not stupid at all, but not desiring to talk about the cat and at the same time desirous to show the visitor every courtesy (at a price), he changes the subject. That the Temple Cat does enter into their religious ceremonies I am quite convinced and this is especially the case with the black ones. These I have seen on two occasions enclosed in gilded cages with incense burning in front of them and with offerings of food placed before their domiciles."

The Temple Cat when not black is a whiter cat than the fawn or seal color common to Siamese.

Mrs. de Gersdorff's seal point queen Chez Minet Tika, which has retained her whiteish coloring longer than most Siamese adult cats, is descended from the pair taken from the Royal Temple by King Chulalong many years ago and presented to Madame Blanche Arral, the opera singer, at the time she visited Siam and sang before royalty. These were

two of the very few Temple Cats to leave Siam and the only Temple Cats to come to America .

Contrary to popular impression Temple Cats do not necessarily have kinked tails. The two given to Madame Arral. Wicky Wicky I and Moumonte I, had long straight tails and their descendants have the same. Siamese cats are of exceptional intelligence but in Mrs. de Gersdorff's opinion their affectionate disposition is their greatest charm.

______________________________________

WYANDOTTE CATTERY

The Wyandotte Cattery, established in 1924 and registered in the C. F. A. x369, is owned by Mrs. F. L. Mock, 3827 Olentangy River Road, Columbus, O. Mrs. Mock is one of the best known breeders in the cat fancy specializing in Siamese and red tabby Persians. Mrs. Mock is secretary of the American Tabby and Tortie Club, past president the Siamese Cat Society of America and one of the most active workers in the shows held by the Ohio State Persian Club in Columbus .

The Wyandotte Siamese cats can well claim their place at the front with the best of that breed. It is the home of such well-known seal points as Dbl. Ch. Ming Kwong Chang of Wyandotte , which won the C. F. A. award for 1934-1935 for the cat taking best in the short hair division the greatest number of times in one season. One of the most outstanding Siamese queens at this cattery is Ch. Djer-Kits of Petaling of Wyandotte.

In the blood lines of the Wyandotte family we find such prominent cats as Mrs. Bearden's Ch. Bonzo II, which is the sire of Dbl. Ch. Ming Kwong Chang of Wyandotte and his grandsire was none other than the Gr. Ch. Bonzo of England . Ch. Djer­Kits of Petaling of Wyandotte is a descendant of the Djer-Kits Cattery and has proven herself to be a consistent winner.

Mrs. Mock's cattery is one of the best equipped in. the country and no time or money is spared in an effort to develop healthy winners to go forth in the shows a credit to Wyandotte .